Posted by Brittany Smith on 11/02, 2012 at 02:03 PM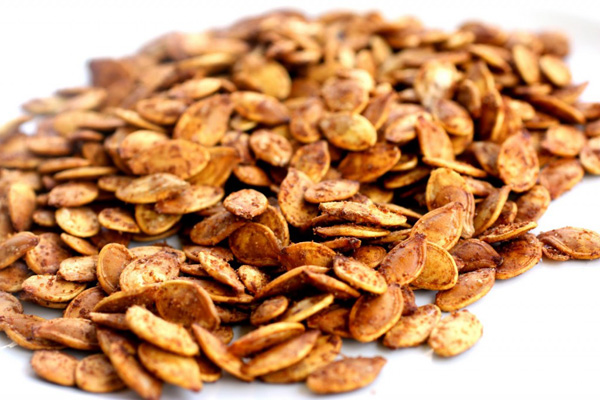 Carving pumpkins is a great family activity, but if you've had experiences like mine, the large mess it leaves behind is such a hassle to clean. After all the time spent effortfully cutting and sawing, usually, the inner guts are gratefully tossed into the trashcan.
Thankfully, my mom taught me this salty little secret when I was growing up and it led us to having yearly masterpieces on the porch and in the kitchen. It's so simple and delicious how the flavors marry to create an Autumn-style sunflower seed.
The best thing about this recipe is that it will work with plenty of other seedy seasonals – in my opinion, most tastefully with butternut squash.
Ingredients
1 ½ cups raw whole pumpkin seeds
2 teaspoons butter, melted
1 pinch salt
Directions
Preheat oven to 300 degrees F.
After removing seeds from gut strands, clean if desired. Toss seeds in a bowl with the melted butter and salt. Spread the seeds in a single layer on a baking sheet, and bake for roughly 45 minutes or until dried to a golden brown; stir occasionally.
That's it! After your first try, start putting your own spin on it. Choosing seasoned butter or pre-boiling the seeds in salted water will intensify the appetizing combination.
Test tip: A couple minutes before removing the seeds from the oven, sprinkle on a pinch of sugar to add a sweet variation to the salty flavor. For a lighter taste, use butter-flavored cooking spray.

Author: Brittany Smith
Bio: Brittany is a senior at Penn State majoring in advertising. She loves food and flavors and trying new recipes. Her dream is to produce advertising content for the Food Network, and possibly one day attend culinary school and become a chef.