Posted by Maya Althouse on 07/24, 2013 at 01:22 PM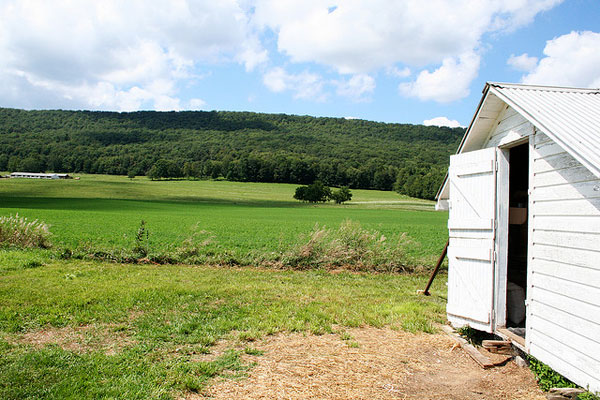 July is winding down, meaning Local Foods Week will be here in no time! August 3rd-10th will bring a week-long celebration of Centre County's agricultural bounty. The week will end with the highly anticipated Farm Tour on Saturday, August 10th, a day when 17 farms open their doors to visitors to explore, taste, and experience first hand what each farm grows and produces.
Farm Tour passes are on sale at Buy Fresh Buy Local partners Tait Farm, Webster's Cafe, Nature's Pantry, and the IngleBean Coffee House, as well as at farmers markets throughout Local Foods Week. A pass is $15/car or $10/bike, and contain special deals for shopping and dining during Local Foods Week. Passes won't be available the day of the tour, so be sure to get one soon! If you don't get a pass—don't fret! Non-pass holders will be asked to pay $5 at each farm visited.
Here is the last sneak-peek of farms on the tour. If you'd like to read previous previews, you can find them here (link to early previews). Hope to see you on the tour!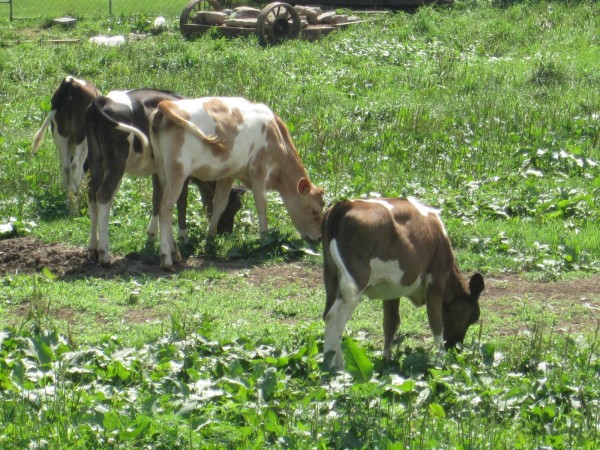 A Family Affair
Spring Bank Acres, Millheim
Running Spring Bank Acres farm is a full time job, lovingly done by the hard working hands of the Fisher family. Amish couple Raymond and Mary Fisher and their children run a grass-fed dairy of 30 cows that provide rich milk for their full line of dairy products. The milk is raw and chock-full of nutrients, and sold by the bottle or carefully turned into butter, yogurt, ice cream, and ten kinds of cheese. They also have 400 free-range chickens roaming the property; if you need fresh eggs, this is undoubtedly the place to go. The produce garden grows a mouth watering mix of greens, berries, and vegetables, enough to feed both the family and their market customers. Mary also makes kombucha tea, a drink made when a culture is added to sweetened black tea; the culture feeds on the tea and turns the sugars into beneficial acids that make it pungent yet incredibly refreshing. The acids cleanse the liver of toxins, and refuel and rehydrate the body better than plain water.
With all the projects and products they produce, Mary says it seems like someone is always working on something. Despite the hard work, it's a family affair that keeps them all close and strong. The Fishers can't wait for the Farm Tour.They each have a role to make their stop run smoothly: Raymond drives the horse-drawn wagon rides, the boys lead tours of the farm, and Mary and the girls run the dairy shop and ice cream stand. They love bringing people to the farm and having them experience eating and picking food right from its source. In addition to exploring the farm on foot or by wagon, there will be baby animals to hold and feed, and fresh home-made rootbeer and kombucha to keep you cool.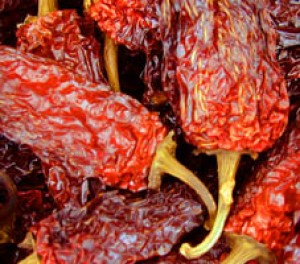 Some Like It Hot
The Piper's Peck, Bellefonte
The delicious salsas, sauces, and jellies that come from The Piper's Peck weren't planned, and neither were the peppers used to make them. As owners Janet and Tim Robinson explain it, the peppers and pepper-products they make were an experiment that became a way of life. In 1998, Janet wanted to get back into the job market, so she tried her hand and growing fresh tomatoes and peppers on their homestead to sell at market. After a while, she decided that creating value-added products from her crop was the best route to take, and tinkered around with different recipes. Thus, the Piper's Peck line of delicious homegrown and homemade pepper products was born. Janet grows peppers, peppers, and more peppers. Each season she plants 1,000 hot peppers, 200 sweet peppers, and 300 tomatoes that are hand picked, washed, chopped, and carefully mixed into the various flavors and heats of jellies, sauces, and salsas that keep customers coming back for more. The peppers are not only spicy, but sustainable too. They're grown organically, the fields are rotated with cover crops, the Robinson's fortify the fields with their own compost, weeds are controlled by straw or black plastic, and greenhouses are maintained with a geo-thermal heat system and water collection.
Janet and Tim are greatly looking forward to welcoming visitors to their farm on the Farm Tour. They'll lead you on a tour of the fields, the certified kitchen where everything is prepared and packaged, sample delicious peppers and pepper products, see their creative ways to keep pests out of the gardens, then pick some of your own peppers to take home.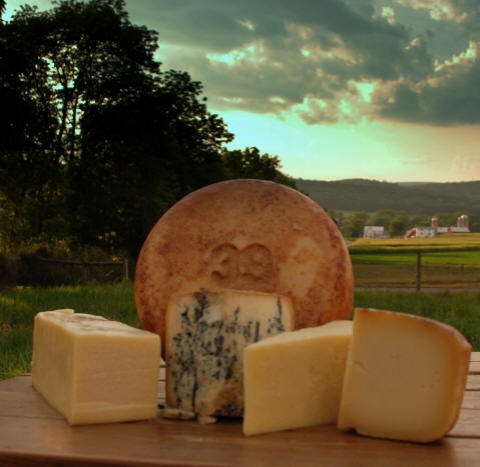 Worth the Wait
Goot Essa, Bellefonte
Imagine a group of Swiss villagers herding their cattle up the stately Alps to make hearty mountain cheese. They leave the cheese to age in the cold caves, then return in late fall to roll the 200-pound wheels down the mountain to the village to sustain the townspeople over the winter.
At Goot Essa, mountain cheese is their specialty. While they don't milk cows in the Alps or roll the cheese down mountains, they follow Old World recipes to make true Alpine-style cheese. Owner Jonh Esh describes it as a nutty, buttery flavor with a firm texture perfected after aging for 10 months in the farm's cheese caves. Along with traditional mountain cheese, John's greatest pride is Goot Essa's sharp cheddar, aged for two years at around 40 degrees to achieve the farm's signature sharp cheddar taste: nutty but not fruity, somewhat acidic, and perfect for slicing.
Is two whole years really worth waiting for a slice of cheese? John assures it is. The aging process encourages growth of beneficial bacteria and enzymes that are cause for the cheese's taste. Depending on the type of cheese and desired flavor, changes in cheese cave temperature and length of aging time can alter the cheese's pH level and the amount of bacteria growth, which directly affects the end flavor.
John and the rest of the Goot Essa gang make sure their customers not only enjoy their food, but know where it comes from—food doesn't just magically appear on store shelves, after all. The Farm Tour is one of Goot Essa's favorite ways to connect with the community. Take a guided tour of the cheese caves, then visit the cows that make it all possible. Tour the pasture, the cow stalls, and special fans and cow showers. Then sample 10 kinds of cheese with various condiments and vegetables that pair delectably with each type. If you're lucky you may even get to roll a wheel, Alpine style.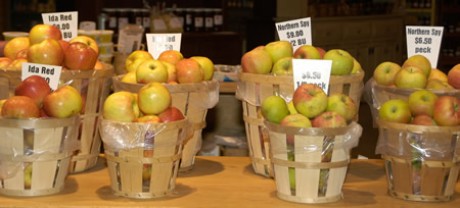 Where There's a Will There's a Way
Way Fruit Farm, Port Matilda
It started as a gift—1000 apple trees given in celebration of Robert and Lucretia Way's 1864 wedding. Six generations later, Way Fruit Farm is still running family-strong and expanded to 150 acres to include peaches, cherries, plums, pears, sweet corn, pumpkins, strawberries, blueberries and apricots. Fruit lovers, unite! Because of its long-standing family ownership, Way is considered a Century Farm, a title being heard less often as farms increasingly change ownership. The Ways retail the majority of what they grow, with minimal wholesale. They take pride in their fruit: unblemished with true, sweet fruit flavor, a healthy snack for all ages. Community, both local and global, is another important aspect of the farm. The Ways love the farm work and seeing their hard work turn into something beautiful and delicious that can be shared with neighbors, friends, visitors from around the nation, and even people in other countries. Each October, Way Fruit Farm hosts their Apple Festival, a day to celebrate the local apple bounty. For the past 10 years, 10 percent of proceeds from each Apple Festival have been sent to an orphanage in the Dominican Republic, which help fund schools, housing, clothes, and school supplies.
They also love teaching the public about the food they eat. The Ways teach about the seasonality of fruit and vegetables, as well as the health benefits of eating fresh foods. Be sure to stop by on the Farm Tour and tour the orchards and get a behind-the-scenes look at the apple grader and coolers. The Our Way Cafe will be open for breakfast, lunch, and snacks, where you can enjoy tasty country food made from fresh, local ingredients. It will also be peach season, so be sure to take home some juicy treats! Plums, blueberries, and any other ripe fruit will also be available.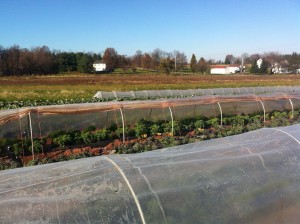 The One-Man Show
Wilson's Home Farms, State College
If you wish you had a veggie garden in your backyard but don't have the time or know-how to tend one yourself, Woody Wilson is your man. Woody found his interest in agriculture as an intern at Tait Farm during college. He went on to create a business model for the 2011 PSU Ag Spring Board Competition, an idea that became a reality in early 2013 when he gained his first customers for Wilson's Home Farms. He currently manages nine home gardens and tends them every step of the way from tilling the land, planting the seeds, weeding the rows, and caring for the plants all way up to harvest time. Woody also runs his own farm: customized beds of fruit, berries, and vegetables grown for his CSA. He plans the gardens after speaking with customers each growing season about what they want and how much they plan to consume, then he estimates each plant's yield to make sure his garden produces enough so each customer receives the type and amount of produce asked for.
Woody's stop on the Farm Tour will take place at the farm he runs at Videon Central, a programming and software company in State College. The garden provides salad and vegetables for the twice-weekly employee lunch program. The program costs just $3 per employee, and everything is grown by Woody right there on company ground. The meals are prepared by a staff cook, allowing the employees to enjoy a fresh-grown feast without having to leave the office.
Visit Wilson's Home Farms at Videon Central to learn what goes into planning and maintaining multiple gardens, as well as strategies to manage the time and sweat spent at each. He'll explain his method of successional planting that allows him to have fresh fixings ready for each employee lunch, and you'll learn about integrated pest management, sustainable weed control, composting, and drop irrigation that keep his farms fresh and sustainable.
Author: Maya Althouse
Bio: