Posted by Jamie Oberdick on 07/10, 2013 at 03:59 PM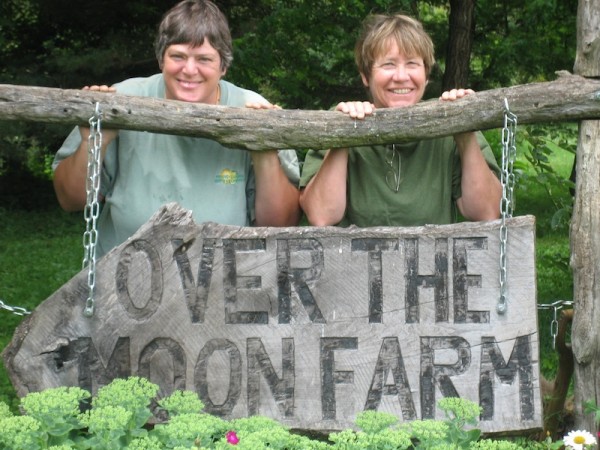 This is part II of the Centre County Farm Tour preview, by Maya Althouse, Pennsylvania Association for Sustainable Agriculture intern
As Local Foods Week gets closer, it's time to mark your calendars for August 10th and plan where you want to stop on the Centre County Farm Tour! There are seventeen farms on the Tour, all of which are eager to welcome you to their world and share their livelihood with you. Since most people make it to only four or five farms depending on how long they spend at each location, it's good to look ahead in order to make the most of the day. To help you out, here is a preview of the next four farms on the tour—check back next week to read about more!
A note on Local Foods Week: August 3rd-10th is a week long celebration coordinated by the Pennsylvania Association for Sustainable Agriculture (PASA) and Buy Fresh Buy Local (BFBL) to connect consumers with all of the agricultural wonders found right here in Centre County. The week will end with PASA's most anticipated event, the Centre County Farm Tour. This is your chance to visit local farms to meet the farmers and learn how they produce healthy, sustainably raised foods!
**A Farm Tour Pass can be purchased for $15 at BFBL Partner locations (the IngleBean Coffee House, Webster's Cafe, Tait Farm, and Nature's Pantry), as well as at weekly Farmers Markets. Some of the farms will open early to pass holders, and the pass also gives you access to special promotions during Local Foods Week from our Partner businesses.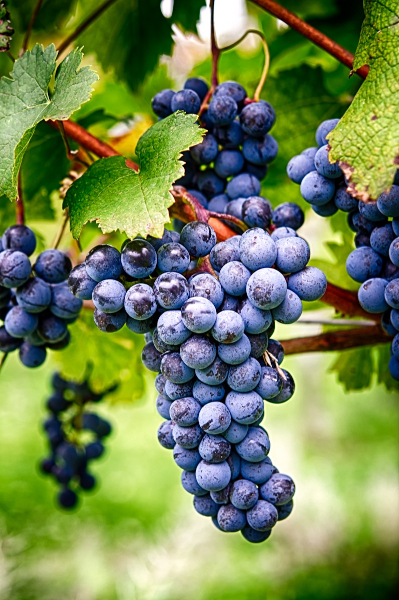 Summer time, summer wine
Mt. Nittany Vineyard & Winery, Centre Hall
Although Pennsylvania isn't one of the first states to come to mind at the mention of delicious wine, the PA wine industry has grown in leaps and bounds over the past decade, currently boasting over 170 licensed wineries that produce high quality, distinctive regional vintages. Centre County is no exception to the wine boom; with three vineyards and an expectation of more to come, the area is making a solid name for itself in the grape and wine industry.
The first Centre County vineyard was Mount Nittany Vineyard & Winery, a wine lover's utopia founded twenty three years ago in 1990 by Betty and Joe Carroll. Joe was a Penn State professor and amateur wine enthusiast who bought the land in the early 1980s as a side project to grow grapes to sell to their wine-making buddies. The grapes were a big hit, so they expanded it to a full fledged winery in 1990 and it has continued to grow and thrive ever since.
Mount Nittany Vineyard is nestled into the side of none other but the county's well-known landmark, Mt. Nittany, where five acres of grapes overlook the beautiful valley below. Although unusual to grow grapes on a mountainside, the location is ideal. Manager Gene "Jinx" Proch explains that Pennsylvania grape growers are dealt a very different hand than the California growers. The Northeast growers face the threat of spring frosts, higher humidity, and more rain and subsequent moisture which can lead to greater disease pressure, mildews, and molds. These factors not only affect the plants' growth and fruit production, but can also pollute the quality of grapes and wine. Since weather is a major factor in each wine vintage, PA vintages have more variability between years than wines produced in more arid climates. Despite the challenges, the slopes of Mt. Nittany hold a microclimate that has proven to be a dreamy location for grape growing. The vineyard is high on the mountain and escapes the frosts that coat the valley floor. It faces south so the grapes are exposed to plenty of the desired heat, and the sloped ground allows for natural draining and downhill airflow that keeps the fields dry and prevents moisture-triggered diseases. Plus, the view is just incredible.
The winery produces 12,000 gallons of wine (5,000 cases) on site each year, ranging from dry reds and whites to sweet dessert varieties. About 40 percent of the grapes used come from the mountainside vineyard, while the rest are brought in from other vineyards around the state. The grapes are harvested by hand in September and October, an intense job that relies on the goodwill of volunteers who dedicate long (but fun) hours to picking and preparing the grapes for pressing and processing. Jinx is proud to report that they are still harvesting grapes from the original vines that were planted in 1984 and 1985. There are some newer vines from the vineyard's expansion as business grew, but all the vines are thriving and are there to stay.
Jinx and the rest of the Mount Nittany Winery staff are excited to welcome you on the Farm Tour. You will get to walk through the entire winemaking process, then enjoy a complimentary tasting of seven wines. The tour is open to everyone, but only guests of age are permitted to sample at the tasting. Along with wine, Mount Nittany Vineyard is all about ambiance: you're welcome to bring a picnic lunch or snacks to enjoy on the winery's decks or picnic benches by the pond, or just sit back and take in the view, maybe sip some wine, and rest up before your next stop on the tour. If you visit Mount Nittany Vineyard & Winery anytime during Local Foods Week (Aug. 3-10), be sure to bring your Farm Tour Pass with you to receive 10% off of wine purchases.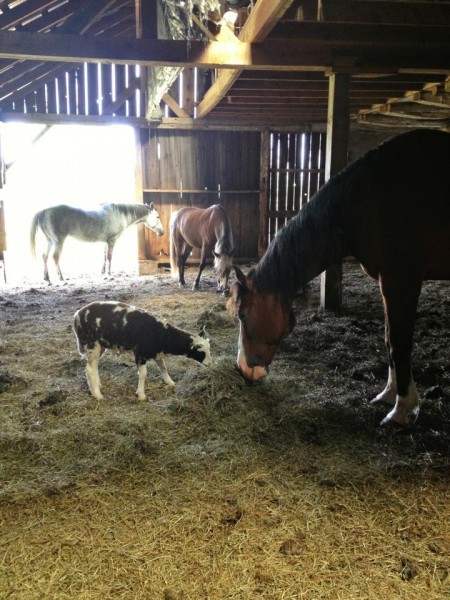 Organic food: A Common Interest
Common Ground Organic Farm, Spring Mills
Sometimes it seems like a farm completely alters a landscape: neat rows, no weeds, flat ground barren of trees or other natural obstacles. There are some farms, though, that embrace the natural environment that was established long before someone thought to cultivate the land. Common Ground Organic Farm is one such place that embraces farming in harmony with nature. Leslie Zuck started Common Ground 27 years ago in 1986. The total property is 120 acres, about half of which has been left alone as wooded mountainside full of wildlife and hiking trails. Although part of the land is technically cultivated farmland, nature is still welcome to thrive. Trees are left where they are, other plants are only removed if they are invasive, and soil health is of utmost importance at all times of the year.
For veggie purists, Common Ground is the place to go. Leslie specializes in organic heirloom vegetables (including 40 varieties of tomatoes), as well as native plants with edible fruit—bring home an elderberry, cranberry, black haw, or Juneberry bush to add to your landscape for both an aesthetic touch and a tasty treat! The farm has been Certified Organic for over 20 years, an impressively long time that speaks of devotion and hard work on the part of Leslie and the many volunteers who spend their time helping everything at Common Ground Farm grow and run smoothly.
Caring for the crops starts down in the dirt. Since weeds, diseases, and animal pests tend to target stressed plants, nurturing healthy plants is a key step to minimizing pest problems. The best way to do this is to keep the soil well hydrated and full of nutrients that will help grow strong, naturally resistant plants. Leslie will teach visitors on the Farm Tour all about her methods of organic growing, many of which can be used in smaller-scale home gardens; come learn the tricks of soil monitoring, mulching, cover crops, compost, and non-toxic insect and mammal pest repellents, and, of course, how to feed your family in tandem with nature. Leslie will also demonstrate how to replicate the farm's unique method for tomato trellising, as well as give a draft horse demo if weather and circumstances allow.
After learning the tricks of the trade, take a hike on one of the several trails through pasture and the surrounding woods to enjoy the peaceful mountain. If you prefer to stay down on the farm, there will be friendly chickens to pet, heritage Icelandic and Jacob sheep to see (the farm's resident lawn mowers), a herd of dairy heifers, working draft horses, and the Great Pyrenees farm dog, Honey Bear. From the fields to the barn to the mountain, a stop at Common Ground Organic Farm is sure to meet the needs and interests of farm, nature, and animal enthusiasts of all ages and levels.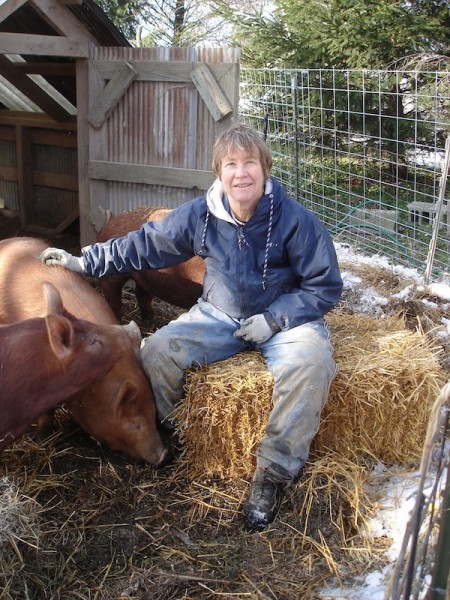 And the Dish Ran Away with the Spoon
Over the Moon Farm, Rebersburg
While running a full time farm requires long hours, dealing with unexpected road blocks, and plenty of sweat and blood, Lyn Garling and Patty Neiner are living the dream. Lyn grew up with a fascination for agriculture and fed her interest by working on a mix of farms as both a worker and educator. Her adventures have taken her to an 800-acre dairy farm in Colorado, a 50-acre watermelon farm in Florida, slash and burn small "farms" in Venezuela, and to the Ecological Horticulture Program at University of California in Santa Cruz. She finally got the opportunity to buy her own five-acre farm in 1998 and Over the Moon Farm was born. The farm expanded to 26 acres in 2001, and in 2005 Patty Neiner joined Lyn as a partner in the farm enterprise.
Over the Moon Farm is a woman-run farm overflowing with diversity.The farm is Certified Organic with large pastures that provide food and exercise for grazing chickens, turkeys, pigs, and cattle; the fields grow hay that they cut fresh in the summer and bale for the winter; and the garden is chock-full of their favorite vegetables and flowers. The animals are raised for meat, but animal comfort and health is Lyn and Patty's top priority. All the animals have access to both pasture and shelter as required by the weather. The cattle are completely grass-fed, though the poultry diet is supplemented with organic feed and the pigs receive additive-free ground grains. Animal care doesn't just stay in the barn: the property is dotted with shelterbelts and windbreaks planted from a diversity of plant species that provide shelter and habitat space for wild birds and small mammals. Lyn and Patty realize the import role that native plants and wildlife play in sustaining a healthy ecosystem, so they make sure their farm activities are as minimally damaging to natural habitat as possible. Although challenging to find a balance at times, animal welfare, both wild and domesticated, is too important to overlook.
The farm experience is something that Patty and Lyn are eager to share with anyone interested. They do the bulk of the work, but love teaching and working with the generous friends, partners, and volunteers who spend time tending the animals and fields.They have also opened their doors (both house and barn) to people looking for a bucolic getaway in a weekend rental cottage, or a rustic setting for meetings, parties, and weddings in their snazzy new event barn. The Farm Tour is a special day for the women behind Over the Moon because they love the opportunity to share what they do, introduce adults and kids alike to the wonders of agriculture, and give visitors a chance to get some dirt under their fingernails. For this year's Farm Tour, Over the Moon Farm will have two-week-old chicken and turkey chicks, young laying hens, grazing dairy heifers, and a rowdy bunch of curious pigs—get ready to interact with farm animals first-hand! You will also get to tour the gardens and hay fields, learn about planting windbreaks, and, of course, scope out the cottage and barn for any upcoming events or a much-needed getaway. If you want to learn more about the six-legged crawlers and flyers you find outside (or in your house), ask Lyn! She's an entomologist for Penn State University who focuses on ecological and integrated pest management for both urban and agricultural environments.
No matter how diversified the visitors, Over the Moon Farm will have something ready to pique your interest. Be sure to bring a cooler to take home some fresh meat cuts that will be for sale.
There will be complimentary fresh iced tea and lemonade at the ready to cool you off after a long day of farm exploring—it's the least they can do for their new trusty farm hands!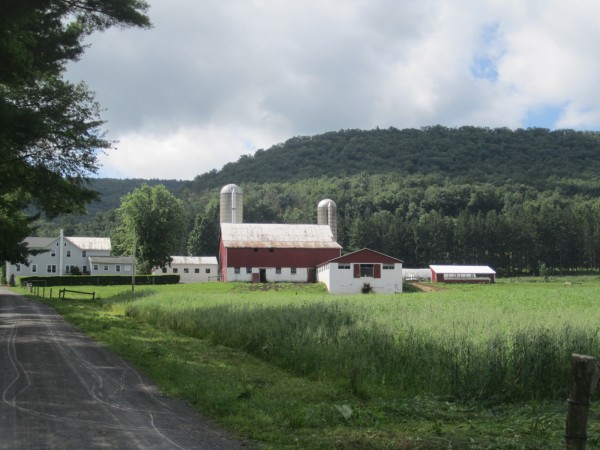 Delicious and Mountain Fresh
Mountainside Farm & Bakery, Rebersburg

This year will be Levi and Rachel Stolzfus' first time on the Farm Tour, and they are mighty excited. Their family has been living and working on the farm for 33 years, growing produce to sell at markets, and added a grass-based dairy 15 years ago. This Amish farm is composed of 65 acres of cropland below 60 acres of beautiful wooded mountain land that the farm is named after. Levi says that they grow a little bit of everything but not a lot of anything. In other words, they grow just enough to supply the family and to provide a nice mix to sell at market without being overwhelmed by the upkeep.
The fields are always growing something as the crop selection is rotated as the season progresses. Their market display offers vegetables of all kinds grown in their fields and greenhouses, as well as a eye-catching bouquets made from the multitude of flowers that Rachel grows around the property. With the variety of produce that they grow, Levi explains that the paperwork required for each variety to stay Certified Organic can take more time than the growing and harvesting. Although they are not certified, the family makes it a point to grow everything as naturally and sustainable as possible. Rather than use pesticides or herbicides, they lay down black row-covers before planting to suppress any weeds that may have taken root. They also use mulch and straw to line the paths in between produce rows, similarly to preserve the soil and keeps weeds from popping up. If weeds or pests do cause a problem, they head out there with hoes and hands ready to dig them out. They also use high-tunnels and greenhouses to naturally urge spring growth so that they can bring early spring treats to the market before the full season.
The dairy portion of the farm, run by Levi and Rachel's son Elmer, is fully Certified Organic. The herd is made up of 42 cows who each produce 50-60 pounds of milk each day, which is sold to Organic Valley Dairy Co-op. The bakery is attached to the house and has been in operation for the past 15 years under the hard work of Levi, Rachel, their daughter Martha, and two hired girls who come to help every Thursday. If you have a sweet tooth, this is the stop for you. They bake a wide range of goodies from fruit pies, shoofly pie, whoopie pies, and six kinds of bread (white, whole wheat, cinnamon raisin, banana, zucchini, and pumpkin).
Levi's favorite part of running the farm is taking everything to market: opening up the truck doors and pulling out all the produce cleaned, bundled, and ready to go, making everything look easy. He loves talking to customers and teaching them about the various uses for for each fresh vegetable. They have a running joke in their family that they will be forever explaining shoofly pie—for all the years he has been going to markets, Levi says that at least one person stops by each day to ask 'what on earth is a shoofly pie?'. Although sometimes a nuisance, it's a constant reminder not to take the simple joys in life for granted.
The Stolzfus family is excited to open their farm for anyone to stop by on the Farm Tour. As long as the mud isn't knee-deep, Levi will lead tours of the greenhouses and produce patches as well as the horse and dairy barns (also home to a flock of barn swallows and cliff swallows raising their babies in beautifully constructed rafter nests). Guests will be welcome to explore on their own through the fields up to the farm pond, then visit the produce stand set up under a shady tree with lots of fresh picked vegetables and baked goods for sale. There's also a special treat for early birds—they will be giving out fresh made whoopie pies to each visitor while supplies last! Maybe they'll even let you try a bite of homemade shoofly pie—just so long as you already know what it is.

Author: Jamie Oberdick
Bio: Editor, Local Food Journey | Passionate about supporting local food in Central PA