Posted by Jessica Illuzzi on 10/18, 2012 at 05:08 PM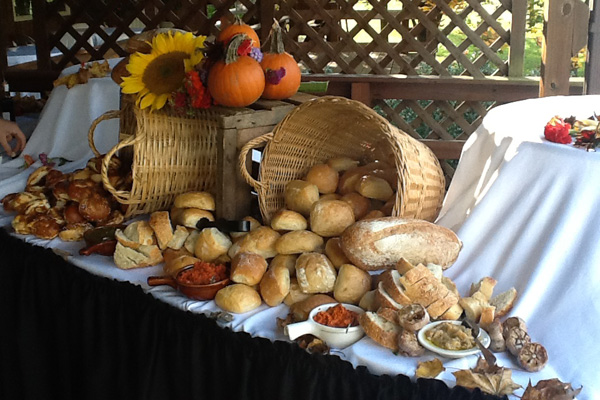 Guests of the first annual Plow to Plate Harvest Festival on Wednesday, October 10th enjoyed seasonal dishes and fall-inspired decorations at Mount Nittany Winery in Centre Hall.
More than 25 vendors from the Boalsburg Farmers Market supplied produce to the region's best restaurant chefs, who prepared delicious dishes for guests to sample. The festival was organized to thank community members, customers, and vendors of the market for their support throughout the year.
The venue arranged five serving stations and a wine tasting table indoors, as well as one long table outside for antipasti, breads, and pizza. Each table was decorated with fall flowers and small pumpkins, which were grown locally. Entertainment was provided by local duo Picker and Papa.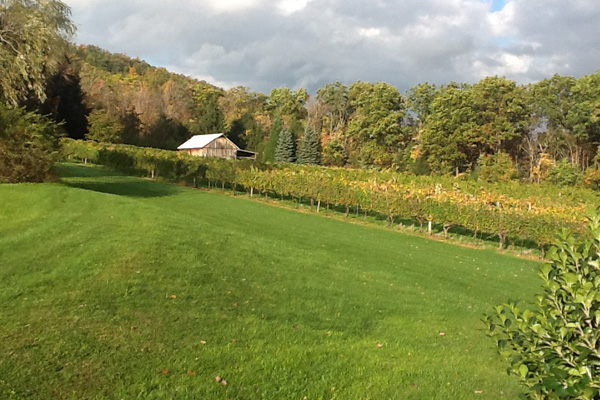 Guests were greeted by a variety of seasonal flavors such as smoked chicken and squash with couscous, spicy and sweet roasted pumpkins, and roasted Gala apples prepared by Chef Nathan Brungart of Zola New World Bistro.
Elk Creek Café served brined pork belly prepared by Chef Mark Johnson, house pickled vegetables, and beets and butternut squash in a pesto made from beets greens. The pork was provided by Pat and Bill Callahan of Cow-A-Hen Farm.
Chef Andrew Monk from the Nittany Lion Inn presented his food by cooking it fresh at the table on a small burner, combining the contents by tossing them in a pan. He served a pumpkin rum and ginger soup, which was vegan and gluten-free.
Fasta Ravioli Company served ravioli with red sauce and provided extra-virgin olive oil and balsamic vinegar from California at the antipasti bar.
Harrison's Wine Grill served a fall-inspired soup of beef, squash, carrots, and twisted noodles.
Tony Sapia from Gemelli Bakery and Nola's Joint made multiple types of pizza in a portable brick oven and provided fresh bread.
Desserts included chocolate mousse topped with nuts, gluten-free cake, and cookies.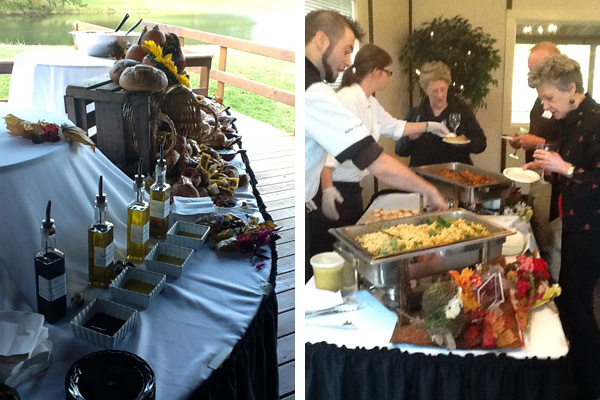 John Eisenstein from Jade Family Farm, whose vegetables were used by the chefs, said he hopes events like this one educate people about the Boalsburg Farmers Market and the quality food it sells. Eisenstein is also chair of the market committee and wants the market to reach a larger community.
"We feel like sometimes the farmers market ends up being a little, market ghetto," he said. "We want the Boalsburg Farmers Market to be a place where people can go and shop for groceries."
Mount Nittany Winery served a complimentary glass of wine to each guest and provided five wines for tasting. They also offered free tours of the vineyard and winery. Betty Carol and her husband, Joe, have owned Mount Nittany Winery since 1983 and planted their first crop in 1984.
Betty invited guests to return to the winery on Saturday, October 20th for their annual Harvest Festival from 8:15 a.m. until 5 p.m. They will offer free wine tours and tastings along with food from local vendors.
Tony Sapia of Gemelli Bakery played a large role in organizing this year's Plow to Plate Harvest Festival and hopes this is the first of many. "Hopefully we're all around for the 30th annual," he said.
(The Boalsburg Farmers Market is open every Tuesday from 2-6 p.m. at the Pennsylvania Military Museum through November 6th and moves indoors to the Boalsburg Fire Hall after November 13th.)
Author: Jessica Illuzzi
Bio: Jessica is a Penn State journalism student. She has worked at WPSU on the Our Town series. She loves food and what State College has to offer.