Posted by Jordan Reabold on 04/15, 2014 at 12:26 PM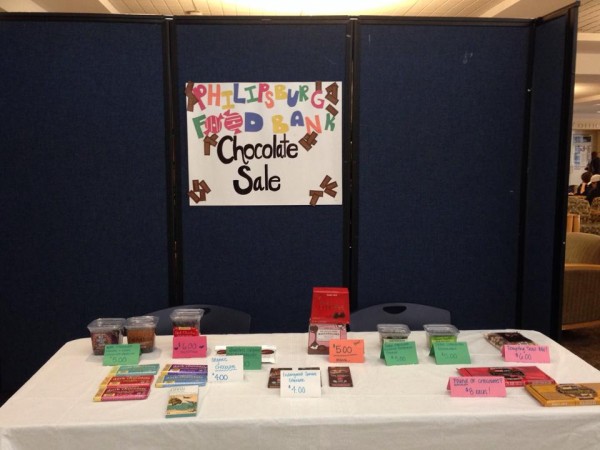 It seems as though Penn State has a club for everything—The Clown Nose Club, Beekeepers Club, Glee Club— the list goes on. While they all vary in their size, purpose, and popularity, I think it's safe to say that each club plays a significant part in helping the community. One club I hadn't heard of, until now of course, is the Community Food Security Club. Their mission "is to spread conscious eating habits to the Penn State and State College communities, to assist in the support of a local food system, and to raise awareness and support for food security." It's no surprise that college students don't have the best reputation for eating habits (Ramen noodles, anyone?), so the Community Food Security Club exists to prevent bad eating habits, not only for students, but for the community as a whole.
To begin, it's important to address what exactly "food security" is. The club describes it in this way: "Food security is having continuous access to nutritious, affordable food in order to live a healthy life." The club exists to ensure that dining halls across campus offer an array of healthy options for Penn State students. When it comes to the community, the club promotes the use of farm-grown foods by restaurants as well as people in their homes. Caroline Meehan, the Community Food Security Club president, says, "The club started a few years ago to raise awareness on food insecurity in America and to show support for sustainable agriculture and the local food system."
What I find admirable is that every member of the club has their own personal motivation. For Caroline Meehan, it's "supporting a sustainable food system." For both Abby Schwartz, the club's Vice President, and Lauren Walega, treasurer, it's "supporting local farmers" and "locally grown food." Paige Becker, secretary for the club, says "fresh, flavorful taste" is what counts. Together, they say, "We hope to continue the work that we have been doing and come up with new and interesting ways to raise awareness on the issues we support."
Their efforts have provided a garden plot at the Center for Sustainability Community Garden where they take part in workshops that teach others, as well as themselves, that with farming comes fresh and healthy food. They use the things they grow in the garden to prepare meals and share a number of recipes. Keeping food local is significant to their club. Abby Schwartz and Paige Becker say, "The benefit of buying and eating local food is decreasing fossil fuel emission through reducing transportation time."
The club has taken part in various events in the community, as well as hosted their own events. "We have raised money and volunteered at the Philipsburg Food Bank, we have gone on local farm tours, been involved in sustainability-focused community events, and had a documentary screening and discussion on hunger in America last semester," says Caroline.
Their mission to address the issue of hunger is commendable, especially the fact that they're spreading awareness in their own community. "The community has been in support of our efforts," says Caroline.
As for upcoming events, the Community Food Security Club will be on campus today in the HUB-Robeson Center. "We will be selling chocolate!," says Caroline.
Personally, I think this club is one that deserves significant recognition. It's clear that their combined efforts are well-motivated and sincere. As a student, I know how difficult it is to find healthy food that suits a college student budget, and I'm thankful for the Food Security Club in considering the well-being of students like me. As for the community, awareness is key, and this particular club focuses on just that.
Author: Jordan Reabold
Bio: Tamaqua, Pennsylvania native - English major at Penn State - Loves cupcakes, coffee, and campfires"