Posted by Jamie Oberdick on 01/15, 2016 at 03:19 PM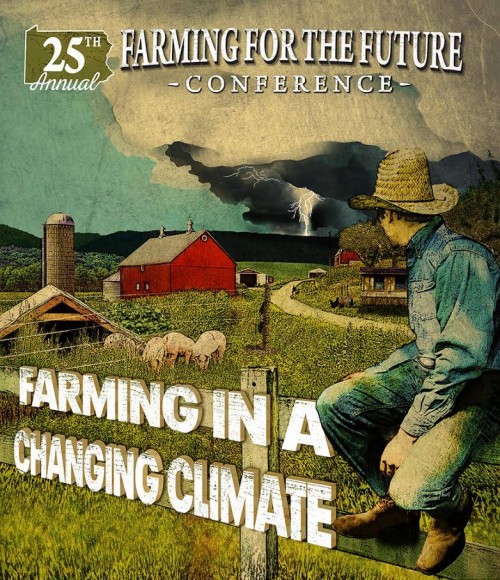 Jeff Moyer, Executive Director of Rodale Institute (Kutztown, PA), and Poultry Man, LLC (Mifflinburg, PA) are being honored as leaders in sustainability by the Pennsylvania Association for Sustainable Agriculture (PASA). The awards will be presented during PASA's 25th Annual Farming for the Future Conference, February 3 to 6 at the Penn Stater Conference Center Hotel in State College, Pennsylvania.
"It is an honor to be receiving this award. I look forward to being included with the past recipients, a prestigious group," says Moyer, recipient of the Sustainable Ag Leadership Award. Moyer is renowned for his expertise in organic crop production systems and has worked with the Rodale Institute for four decades. "The most rewarding part of my work as past farm director and now executive director," says Moyer, "is working with farmers to transition their farm to organic and being a part of their success." His dream for the future of agriculture is one where "everyone sees the connection between the soil we farm and the health of our population. Healthy soil is the cornerstone to a healthy, well-fed human population worldwide."
Poultry Man, recipient of the Sustainable Ag Business Leadership Award, formed around 1999, when Eli Reiff, who has been processing chickens since 1980, answered the call of beginning farmers for affordable poultry processing equipment by gathering the help of others in the Plain sect community to build functional equipment, without the bells and whistles that made it cost prohibitive. "As a result of his steadfast commitment to fellow chicken keepers," says Mike Badger, Director of the American Pastured Poultry Producers Association, "thousands of farmers are able to provide poultry and eggs for their communities and families. As Joel Salatin brought pastured poultry to the agricultural language, Eli stood ready to help farmers usher in the pastured poultry movement by providing reliable processing, knowledge and support in the greater Pennsylvania community. Upon learning of the award, Reiff stated, "I am honored and flabbergasted. I couldn't believe it, because there are so many deserving and hard-working people in Pennsylvania. I want to take no honor for myself, but give all the honor and glory to the One above."
PASA Executive Director Brian Snyder commented, "Each year we have a wonderful opportunity to not only exhibit the best of the best, in terms of sustainable agriculture practices, but also to thank those persons who have led the way for others. We seem to never run out of such people to honor!" With respect to this year's honorees, Snyder added, "Both Jeff Moyer and the Reiff family have shown the careful patience of good teachers for an incalculable number of existing and new farmers, making it possible for our movement to grow much faster than it could have otherwise."
The award recipients will speak as part of the PASAbilities Plenary session, sponsored by Kimberton Whole Foods, scheduled to begin at 10:15am on Saturday, February 6. The PASAbilities Plenary is included with standard conference registration, but attendees interested in only the award ceremony can purchase a Saturday Keynote Only attendance. The awards will be followed by keynote speaker Laura Lengnick of Cultivating Resilience, LLC, her climate risk management firm.
Now in its 25th year, the annual Farming for the Future Conference has grown into one of the largest and most respected gatherings on sustainable agriculture in the country, a multi-day affair comprising intensive pre-conference tracks, two plenary sessions and over 100 main conference workshops. Attendees of the PASA Conference will have the opportunity to network with over 2,000 agriculture industry workers, students and community and business leaders, participate in workshops, trainings, exhibits and receptions showcasing regionally sourced foods and enjoy many unique special events. The Friday morning keynote address will be given by renowned climate scientist and author Richard Alley from Penn State University.
The Farming for the Future Conference is made possible in part by Opening Keynote sponsor Lady Moon Farms and PASAbilities sponsor Kimberton Whole Foods.
Registration is open to the public; pre-registration closes at 5pm on Monday, January 25. To register and view a full schedule of conference programming, visit pasafarming.org/conference. Walk-in registration, at an increased price, will also be available to those who do not register in advance.
Author: Jamie Oberdick
Bio: Editor, Local Food Journey | Passionate about supporting local food in Central PA