Posted by Emily Wiley on 08/16, 2010 at 04:48 PM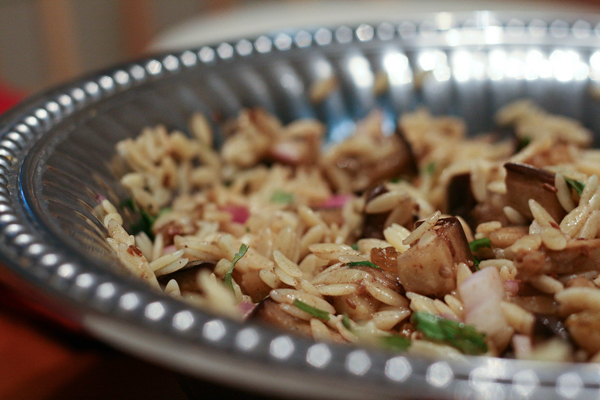 My husband and I do not support factory farms that follow inhumane practices, which unfortunately are the source of some supermarket meats.
And so we buy our meat — often chicken or pork or lean ground beef — direct from local farmers and butchers we know and trust.
Both Gearhart's Meats and Holland Bros. Meats are within a 15-minute drive from our house. Gearhart's has great bourbon marinated chicken breasts, and Holland Bros. does specialty smoked meats and sausages. Also, when I have time after work to stop at the Boalsburg Farmers Market, I buy pork chops from Bill from Cow-A-Hen Farms in Mifflinsburg.
While the aforementioned film and book convinced us to change the type of meat we eat, they convinced some to stop eating it altogether.
A few weeks ago we invited vegetarian friends for dinner, and I happily accepted the challenge of preparing a vegetarian meal for our guests.
This orzo side dish was an exceptional success with Moroccan-inspired cinnamon-cumin spices. The eggplant gives it substance, and the golden raisins give it sweetness. I highly recommend it, whether you're vegetarian or not.
Ingredients
2 - 3/4 lb unpeeled eggplants, cut into 1/2-inch cubes (8 to 9 cups)
5 tablespoons extra-virgin olive oil, divided
1 cup orzo
1 teaspoon cumin seeds
2 tablespoons white balsamic vinegar
3/4 teaspoon ground cinnamon
1/4 cup finely chopped red onion
1/3 cup golden raisins
1/3 cup coarsely chopped fresh cilantro
Directions
Preheat oven to 450°F. Coat rimmed baking sheet with nonstick spray. Place eggplant cubes on sheet; drizzle with 3 tablespoons oil and sprinkle with salt and pepper; toss to coat. Roast until tender, turning occasionally, about 40 minutes.
Meanwhile, cook orzo in boiling salted water until just tender, about 8 minutes. Drain. Place in large bowl.
Toast cumin seeds in small skillet over medium-high heat until slightly darkened, about 4 minutes. Grind seeds in spice mill; place in small bowl. Add vinegar, cinnamon, and 2 tablespoons oil. Whisk to blend; season with salt and pepper. Add onion.
Add raisins, cilantro, eggplant cubes, and dressing to couscous. Toss to coat.
(Adapted from Bon Appetit)
Purchase The Omnivore's Dilemma: A Natural History of Four Meals. Support WPSU
WPSU is now a member of Amazon's Associate program. When you make purchases from Amazon by following links from our website, WPSU will receive a portion of the sale with NO extra cost to you.

Buy The Omnivore's Dilemma: A Natural History of Four Meals.
-or- Click here to support WPSU through any purchase from Amazon.com
Author: Emily Wiley
Bio: WPSU Multimedia Producer | Wife and Mother | Lover of Food and Photography | One-Half of The Culinary Couple