Posted by James Sechrengost on 11/04, 2013 at 02:58 PM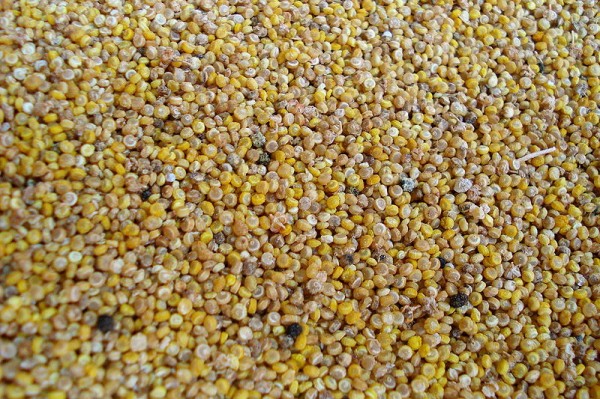 A friend introduced me to this grain and I was curious as to what kind of recipes I could come up with. He loves quinoa but how many times can you eat the same thing the same way. I sat down and came up with a few. The first is a version of rice pudding using quinoa. The Second is a good vegetarian version of tacos.
Quinoa Pudding
Ingredients
½ cup raisins ½ cup dark rum 2 cups quinoa, rinsed, well drained 2 cups whole milk 1 1/3 cups whipping/heavy cream 1 1/3 cups sugar ½ teaspoon salt 1 teaspoon ground cinnamon ¼ teaspoon ground nutmeg 3 large egg yolks ½ teaspoon vanilla
Steps
-Combine raisins and rum in pot. Bring to low boil. Remove from heat. Set aside to plump. Omit rum raisins and use regular ones soaked in water if preferred. - Cook quinoa in large pot of boiling water until tender. Drain well. - Combine quinoa, milk, cream, sugar, salt, cinnamon, and nutmeg in heavy large saucepan over medium heat. - Bring to boil, stirring frequently. - Reduce heat to low. - Cook until most of liquid evaporates and mixture is thick, stirring frequently, about 15 minutes. - Whisk egg yolks in large bowl to blend. Add 1 cup pudding mixture, slowly, and whisk to blend while adding. - Add vanilla. - Return mixture to saucepan. - Add raisins and rum and continue stirring until mixture is thick (do not boil). - Transfer pudding to large glass bowl. - Refrigerate until cool.
Quinoa Tacos
Ingredients
1 c. cooked quinoa (Cook in Vegetable stock for more flavor) 2 tablespoon extra virgin olive oil 2 teaspoon green chilies, diced 2 teaspoon thinly chopped fresh cilantro ¼ of an onion, diced 1 teaspoon smoked paprika 1- 1 ½ teaspoon. cumin (depending on your taste preference) ½ teaspoon ground ancho chili pepper (crushed red pepper can be used if you don't have the ancho) 1/8 teaspoon cayenne pepper dash of salt to season 6 tacos shells, either crunchy or soft Favorite taco toppings
Steps
- In a skillet, sauté the onion and chilies with oil for about 3-5 minutes. Put chilies in after sautéing the onion if using canned chilies. - Add cumin, paprika, ancho chili pepper, cayenne, and salt. Mix in quinoa and cook another minute. - Stir in cilantro last. - Serve with favorite taco toppings.
Author: James Sechrengost
Bio: Computer Guru | World Traveler and Foodie Extraordinaire | Member of the Been there Done that Club