Posted by James Eisenstein on 04/17, 2013 at 07:50 PM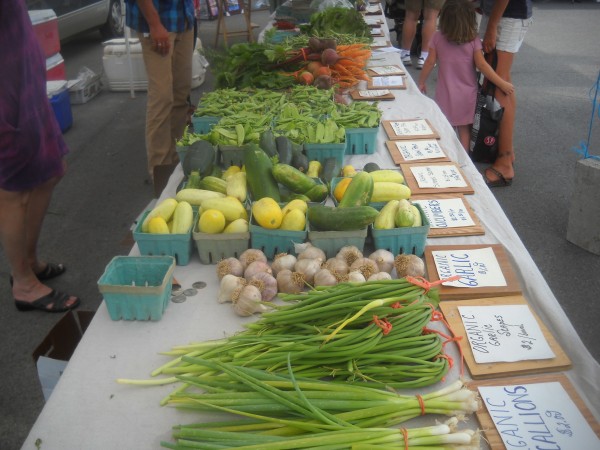 Several years ago, I shared what I called my "local food fantasy," one of the results (besides soreness and sweat) of performing repetitive tasks on the farm that require little thought (think weeding and digging carrots). Could we move to a "local food system" here? We live in a rich agricultural setting, have an educated population and some large institutional purchasers of food (Penn State, the hospital, schools, retirement communities), a supportive media, and a small but growing supply of locally grown food. "Why not?" I concluded But this was, as my title indicated, just a daydream.
Only a minuscule proportion of what our population ate was locally produced. I alluded to many obstacles in realizing it, but only mentioned the widespread fear of trying new food (described in a previous blog post, "Food Fear").
Ah, but that was then, fully twenty months ago. Subsequently, we've moved from a fantastical possibility to the point where we can see the foundations upon which a local food system could grow. Since I wrote that blog post:
- Two additional farmers markets opened (Lemont Farmers Market, Tuesday Downtown State College Farmer's Market, plus the indoor winter one in the State College Municipal Building (see http://www.nathertonmarket.com/central-pa-markets.html for info on all local markets).
- The Saturday North Atherton market at the State College Home Depot has grown rapidly
- More local restaurants are buying and featuring local food
- Students have organized to get PSU Food Services to begin including local food in some meals
- Penn State Food Services and local farmers have begun efforts to source more local product
- State College Area School District (SCASD) is exploring applying for a "Farm to Table" grant to include local foods in its lunches
- More SCASD schools have started school gardens
- Cooking demonstrations, harvest dinners, and chefs' competitions at farmers markets have increased
- Efforts to establish a community kitchen (The Taproot Kitchen, (https://springcreekhomesteading.wordpress.com/2013/02/06/taproot-kitchen-fund-drive-kick-off-feb-6-2013/) are underway
- The Friends and Farmers Food Coop (http://www.friendsandfarmers.coop/), which will feature locally produced food in a full service grocery store, has incorporated, established an interim board of directors, adopted by-laws, and commissioned a feasibility study.
- A growing core group of students, local residents, and officials interested in fresh, local, healthy (preferably organic) food are establishing an active, social network;
- And finally, here, as everywhere, there is growing awareness of the importance of eating wholesome, "real food" produced locally and sustainably.
This is only a partial listing. Taken together, these developments suggest that it is worth exploring questions like "What do we mean by a local food system?" "What are the obstacles to establishing a vibrant and growing local food system?" "What can our community do to overcome these obstacles?"
In subsequent posts, I will discuss these questions and provide more details about some of the encouraging recent developments described above. Our community is poised to transform the local food fantasy into reality, and the broader the understanding that this is possible, the more likely its realization.
Editor's Note: Look for Part 2 of this post on Friday!
Author: James Eisenstein
Bio: Unpaid Field Hand at Jade Family Farm | Former Penn State Professor