Posted by Kristin Camplese on 02/15, 2012 at 01:55 PM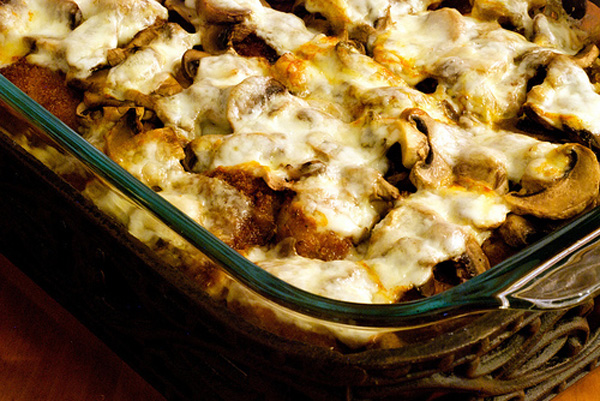 Here is a delicious winter recipe that we ate all the time growing up, and I have just updated it a bit. It's a great casserole for a big group, kids love it, and it makes a great drop off dinner for your friend or neighbor who just had a baby.
We like to serve it with rice, if you want a starch, and a green salad or sauteed spinach. I have a hunch you could make a vegetarian version of this with tofu that would be really great, too. You could also use vegetable stock in place of chicken stock, if you like. (I should add that you can skip the mushrooms entirely or just put them on half if your kids don't like them, but mine seem to enjoy them under the cheese.)
Ingredients
1.5 pounds of chicken breasts
3 eggs
2 t Italian Seasoning
2 t Oregano
1 t Salt
Freshly Ground Pepper
2-3 cups of Panko Breadcrumbs
1 cup of chicken (or vegetable) broth
1/2 cup of Marsala (sweet)
16 ounces White Mushrooms (other types would work well too), sliced
6-8 ounces Muenster Cheese, sliced
Directions
Cube chicken breasts into about one inch pieces (chicken nugget sized). In a large bowl, whisk together 3 eggs, 1 t Italian Seasoning, 1 t Oregano, 1/2 t salt, and freshly ground pepper. Add chicken pieces to egg mixture and set aside (can let it sit in refrigerator like this for an hour or two if you like).
In another bowl, combine 1 t Italian Seasoning, 1 t Oregano, 1/2 t salt, freshly ground pepper, and Panko Breadcrumbs. Remove a few chicken pieces at a time from the egg mixture (allowing excess to drain off) and toss with breadcrumbs to coat. Repeat with remaining chicken pieces.
Heat a few tablespoons of olive oil in a large saute pan over medium heat. (Coat the bottom of the pan.) In about three batches, brown the chicken pieces on both sides. They do not have to be cooked through, just browned. Make sure you do it in batches and don't crowd the pan so they will get a nice brown crust. As they are done, place the chicken pieces in a 9 inch by 13 inch glass baking dish.
Preheat oven to 375 degrees Fahrenheit. Wipe out saute pan and heat a bit more olive oil. Saute the sliced mushrooms.
Mix broth and Marsala together and pour over browned chicken pieces. Top with sauteed mushrooms and bake for 20 minutes. Remove from oven and place Muenster Cheese slices over top chicken and mushrooms and bake for 10 more minutes until done and bubbly. You can broil it for a bit at the end if you like the cheese browner.
Serves about 8.
Author: Kristin Camplese
Bio: Author of Cuizoo.com | Writer | Photographer | Wife and Mother of 2