Posted by Local Food Journey on 10/10, 2014 at 11:29 AM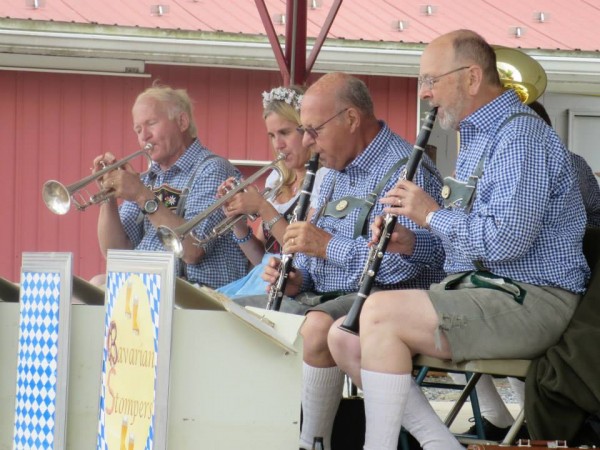 By Anna Lombardo
Free up your schedule, folks—the second annual Millheim Oktoberfest, presented by Elk Creek Cafe and Aleworks to benefit the Millheim fire company, is just around the corner. On Saturday, Oct. 11, starting at 11:00 a.m. and lasting until 7:00 p.m., the Millheim fire company grounds will host this family friendly, all-weather event, where they plan to offer traditional German food, drink, music, and dancing—in the spirit of community involvement and kinship.
Oktoberfest, I learn from Elk Creek Cafe head brewer Tim Yarrington (I was pitiably uninformed about the event), dates back to Germany in the early 1800s, when a party was thrown for a young Prince Ludwig, in honor of his marriage. The entire town of Munich, Germany, was invited, and thus Ludwig's marriage party set epic proportions for this tradition, which would inspire subsequent celebrations all over the world every year for the next several hundred years.
"You always have to keep in mind that it is like a huge wedding party," Yarrington says of the ideal Oktoberfest. "You want to create an experience like a wedding: a big common space with people being entertained by music and dancing, with good food and great drink. That's the whole premise of any Oktoberfest."
Informed by this vision, Yarrington's hope is to create such an atmosphere while adhering as closely as possible to traditional German practices—in this case, cooking food and brewing beer. Attendees can expect a wide assortment of, you guessed it, traditional German food, including dishes like bratwurst and sauerkraut (both locally made), as well as other favorites like schnitzel and spaetzle. While Elk Creek Cafe will be providing much of the food, there will also be contributions from student chefs at the Central Pennsylvania Institute of Technology and also from the Pennsylvania College of Technology, who will be working with the event's professional chefs.
For those over the age of 21, Yarrington is eager to present a number of locally-brewed beers, among them a special type of lager called a märzen. "Lager," I learn from my conversation with this head brewer, means in German "to lay down" or "to rest." Because these types of beer benefit from long periods of cold storage, the märzen would be put away in March, and would be left there until the end of September or early October, allowing it to be served at Oktoberfest and mark the end of the brewing season. Because of advances in technology, Yarrington's märzen has not needed to be stored for durations of such length, but it does differ from most drinks of its kind in that it has been clarified naturally. Various ales will also be sold at the event to supplement the märzen.
Drinking is often paired with dancing and music, and there will be no shortage of either at this particular celebration. Millheim's Oktoberfest will feature several singing and dance groups, including The Little German Band—based in central Pennsylvania and marked by their traditional German garb—and two dance groups, the Bavarian Stompers and the Pleasant Valley Dancers. Keeping with the theme, all of the music and dress will be in the traditional German style.
Most reflective of German tradition, I think—food, drink, and music aside—is the aspect of unity that Millheim's Oktoberfest represents. Yarrington himself was inspired to enter the craft of brewing by what he calls the "nostalgia and romance" of stories surrounding local German pubs, which were not only meeting places for the community but also economic and agricultural hubs. "Breweries were integral to communities, particularly in Germany," he says. "Sometimes entire towns existed only because of a brewery."
Pubs bought yeast and other crops, providing a market for farmers that otherwise would have had no one to sell to. In this way, they kept in motion the cogs of those rural German towns. In a similar manner, this year's Oktoberfest will benefit the Millheim fire company, a group of volunteers upon which the town is dependent for safety and yet who are often unable to keep up with the rising costs of technological advances. The town's eager support of one of their own lends itself to the same feeling of community spirit.
"It's really rewarding," Yarrington says. "It gives [the event] an added layer of meaning." If not for the great food, wonderful drink, and sights and sounds of Germany transported to Central Pennsylvania, join Millheim this Saturday to help provide a generous "thank you" to members of their own kin.

Anna Lombardo is a suburban Philadelphian, English major at Penn State, and avid learner, runner, and eater.
Author: Local Food Journey
Bio: An exploration of what it means to eat local