Posted by Jamie Oberdick on 12/09, 2013 at 02:03 PM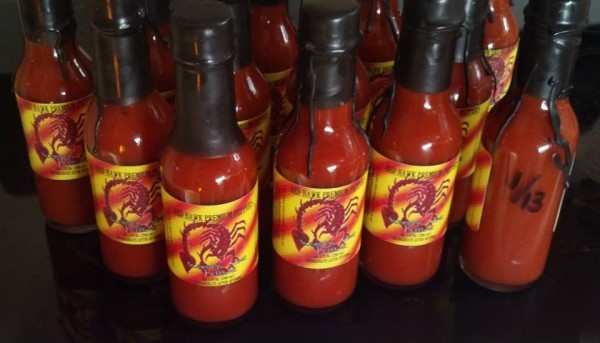 If you love the kind of heat that only a great hot sauce can provide, then Red Hawk Premium Peppers offers your kind of product line. The Reedsville company offers a variety of rubs, sauces, powders, and other condiments such as hot pepper jelly.
The owner of Red Hawk Premium Peppers is Dan Lowenstein. Dan notes that the love of hot spice is in his blood. "I was very fortunate to inherit my love of heat from my little Irish Grandmother," he said. "She was very well known for carrying her own shaker of red pepper flakes or Tabasco sauce in her small purse. Ever since I was a child, I have loved a little fire in my food."
This love of hot food led Dan to start making his own hot sauce and other products. Most of the products for sale by Red Hawk were once make for his own personal consumption or for Christmas gifts. He kept hearing people ask why he wasn't selling any of his stuff, so he decided to try it and formed Red Hawk Premium Peppers in September 2011.
Dan not only makes all sorts of hot and spicy products, but he also grows hot peppers.
"My passion has been (and always will be) growing hot peppers. I'm lucky to still be able to use my own hot peppers in my products and grow a little over 500 plants in order to supply my fiery goodies," Dan said. "We grow everything from wild varieties such as the Texas chiltepin to the milder Fresno peppers up to the new world record hottest pepper in the world, the Carolina Reaper."
Dan practices environmentally friendly growing techniques for his peppers. He takes the responsibility to use organic, all-natural, and low-environmental-impact growing techniques. "For example, no chemical fertilizers are used on our peppers and recycled rainwater is the primary source for our irrigation," he said.

Part of Dan's 2013 harvest of Bhut Jolokia peppers, an exceptionally hot variety from India.
Once he harvests the peppers, Dan pairs the peppers with other ingredients. It varies, he said, based on the variety of pepper. He does something rather remarkable; he comes up with new recipes by eating a whole fresh pepper. This can be quite challenging with some of the really hot varieties, but it works for him. "After eating an entire Trinidad Scorpion pepper, I knew immediately I was going to pair it with strawberries for our popular Strawberry Scorpion Sting sauce," he said.
Along with the flavor boost his products offer the palate, Dan also notes that his products have a lot of health benefits. Capsaicin, the chemical compound that gives hot peppers their spicy heat, is one of the more healthy things you can put in your body, he said.
"There have been studies showing that Capsaicin can kill certain types of cancer, aids in weight loss and supports cardiovascular health," Dan said. "In addition to Capsaicin's health benefits, hot peppers contain more vitamin C than an orange. Therefore, our sauces taste great and are good for you!"
While Dan promotes both the flavor and healthiness of his super hot products, he also has some mild products for those who want just a little spice. In fact, he said, three of their most popular products are also their mildest. "Our 'Fire on the Mountain' hot sauce has the flavor or a fresh salsa along with a very mild heat. Our Cranberry pepper spread pairs the mild heat of ripe, red jalapenos with sweet, tangy cranberries," he said. "Finally, our Rainforest Relish uses the mild heat of South American peppers and sweet onions to produce a sweet and savory crowd-pleaser."
If you are interested in trying out Dan's products, or looking for a great gift for the heat lover in your life, Dan gave several ways to purchase his products. "All of our products are available for purchase at http://www.redhawkpeppers.com," he said. "We will also be vendors at the Bellefonte Victorian Christmas celebration and Old Gregg School Holiday Craft Fair (Spring Mills). If you miss us there, you can find our selection at Callao Cafe in State College, the Dutch Pantry Gifts in Milroy and Big Valley Beverage in Reedsville, PA."
Author: Jamie Oberdick
Bio: Editor, Local Food Journey | Passionate about supporting local food in Central PA