Posted by Jamie Oberdick on 07/31, 2014 at 01:58 PM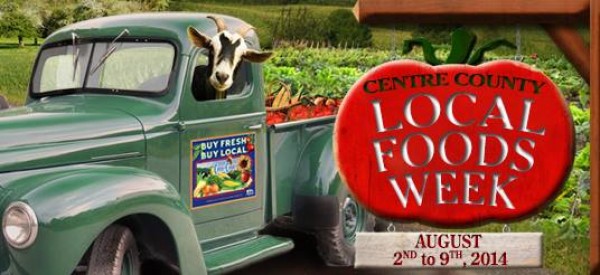 As any reader of this blog is well aware, we live in an area full of fantastic sources of local food. And it's growing, from new places to find local food to the excitement building around the burgeoning Friends & Farmers Coop and their plans to build a grocery store dedicated to local food. Really, something as awesome as our community of farms, markets, roadside stands, local food restaurants, etc. is something to be celebrated.
With that in mind, the Pennsylvania Association for Sustainable Agriculture (PASA) is celebrating Local Foods Week August 2-9 with a variety of events, including the Centre County Farm Tour. FYI, this year, folks can buy a farm tour pass on-line or at the farmers markets during Local Foods Week. Purchasing a pass in advance means you can go to some of the farms starting at 10:00 a.m. (please review the list to see which ones open early). Passes will be available only at the North Atherton Farmers Market and the Millheim Farmers Market on the day of the tour.
More details about Local Foods Week, including other events:
2014 FarmFest, Grange Fairgrounds, Centre Hall, Friday, August 1, noon-10:30 p.m. and Saturday, August 2, 9:00 a.m.-10:30 p.m.
A free event that is designed to both raise awareness of organic agriculture and sustainable living, and offer fun for the entire family. A variety of different speakers and workshops will include Klaas and Mary-Howell Martens of Lakeview Organic Grains, session tracks on farming and homesteading, and a "wool village." There will, of course, but plenty of opportunities to enjoy local food including an organic food court, a "homemade/homegrown market," various vendors, a sampling barn, and last but not least, the Friends and Farmers Coop Pie Contest. There will also be live music, including open jam sessions and a barn dance Friday night. Along with camping onsite (c'mon, you've always wanted to camp in a Grange Fair tent, right?), other outdoor activities include a 5K, an outdoor symposium, and opportunities to bike (see below). This is a family-friendly event, and pets are welcome.
Bike Fresh/Bike Local, Millheim, Sunday, August 3, 7:00 a.m.-3:00 p.m.
Exercise and good food are vital to a healthy life, so a bicycling event related to local food makes total sense. Beginning and ending in Millheim and traversing some of the most beautiful rural landscapes our area can offer, cyclists can choose among 35, 50, and 75 mile routes. After the ride, a delicious local food lunch will be offered, featuring pulled beef barbeque or smoked organic tofu sandwiches, an organic salad, dessert, and beverages including local brews for those over 21. The lunch is compliments of event partners EcoVents, Lady Moon Farms, and Elk Creek Cafe + Aleworks. Registration fees are $40 pre-registration (CLOSES TONIGHT, July 31) and $50 day of event.
Dine Fresh, Dine Local at Harrison's, Harrison's Wine Grill, State College, August 4-17
Harrison's Wine Grill has been a long-time supporter of PASA and a Buy Fresh Buy Local partner for many years now, not to mention having one of the most creative local food menus in the area. As part of Local Foods Week (actually, going beyond Local Foods Week to Aug.17), Harrisons will donate 20 percent of your bill to PASA, that is if you mention either PASA or Buy Fresh Buy Local. Plus, Harrison's is offering their Italian Summer on the Isle of Capri menu in August, so even if the weather keeps trying to make us think it's October, you can find summer at Harrison's.
Golden Basket Award Chef Competition, Boalsburg Farmers Market, Boalsburg, Tuesday August 5, 2:00 p.m. - 4:00 p.m.

Come out to the Boalsburg Farmers Market to see who will take home the Fourth Annual Golden Basket Award. Nine of Central Pennsylvania's best chefs will prepare amazing dishes with ingredients obtained from the market. Most of the chefs prepare some extras for the public to taste as well. Perhaps you can become inspired to flex your own culinary muscles and buy some fresh produce, meats, prepared food, and create your own local food masterpiece.
Centre County Farm Tour, various locations, Saturday, August 9, 10:00 a.m.-5:00 p.m.

Either by bike or car, this tour gives participants a behind-the-scenes look at how your local food is grown, right from the farmers conducting the tour. Not only do you get to meet the people who create all the local goodness you savor, you also will have the opportunity to buy the goods directly from the farm. Many farms offer free samples and a chance to meet some of their animals.
Author: Jamie Oberdick
Bio: Editor, Local Food Journey | Passionate about supporting local food in Central PA