Posted by Local Food Journey on 06/22, 2015 at 11:59 AM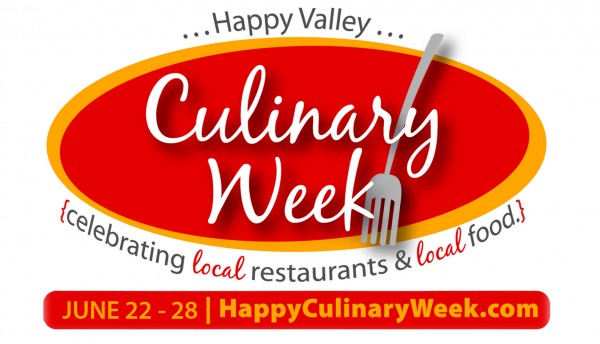 The Third Annual Happy Valley Culinary Week is here, starting today, June 22, and running through Sunday, June 28. There are 18 restaurants in Happy Valley offering special menus, but there's special events as well. Learn more about Happy Valley Culinary Week by reading the post below, written by Lori Miller, director of visitor and member services with the Central Pennsylvania Convention & Visitors Bureau. Then tomorrow here on Local Food Journey learn about one of the major highlights of the week, the South Hills Culinary Week Food Festival which will be held on Wednesday, June 24.

By Lori Miller, Central Pennsylvania Convention & Visitors Bureau
We're very happy to be celebrating our 3rd Annual Happy Valley Culinary Week! It's a great way to celebrate the dining scene in Centre County. We have a lot of familiar as well as unique dining options with some great chef talent. We hope to encourage people to try a new place and hopefully discover a new favorite.
Many of the participating restaurants will be hosting events throughout the week. Some examples:
- Spats Cafe will be hosting food demonstrations during the 2015 Culinary Week. All events will take place from 4:00 p.m. to 5:00 p.m. at Spats Cafe, and reservations are required.
- Home D Pizzeria is having "pooches on the patio," charity events, specials, and entertainment all week.
- Kitchen Kaboodle will be featuring in-store demonstrations using their vendor products.
For the second year in a row we have partnered with South Hills School of Business & Technology to host the South Hills Culinary Week Food Festival on Wednesday, June 24. The Food Festival features 11 chef demonstrations happening every half hour from noon to 5:00 p.m. Also, there will be 20 vendors exhibiting produce, gadgets, cookware, and cookbooks, and local musicians will provide live music. Supporting chefs will demonstrate recipes and participants will be able to taste their creations, ask questions, and leave with a recipe in hand. They'll also pick up a few kitchen skills. The carnival atmosphere and live cooking demonstrations, mixed with plenty of food and live music, is a lot of fun!
People can enter our photo contest to win gift cards for local restaurants! We want to follow their Culinary Week adventures. Post photos of you and your food at participating restaurants to Twitter or Facebook, use #happyculinaryweek, and be entered to win! We'll pick a winner at random at the end of the week.
Pick up a copy of the Centre County Gazette's 2015 Official Guide to Happy Valley Culinary Week to preview the menus or check them out online at www.happyculinaryweek.com.
Author: Local Food Journey
Bio: An exploration of what it means to eat local