Posted by James Eisenstein on 08/21, 2013 at 04:56 PM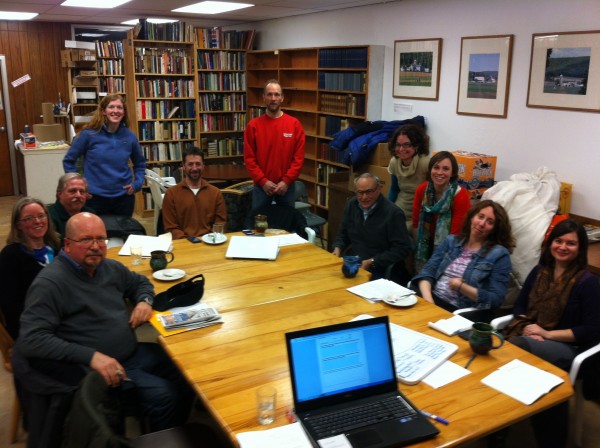 How might the proposed Friends and Farmers Food Co-Op Store contribute to making my local food fantasy a reality? (My fantasy envisions a future in which much of the food we eat comes from local farms and producers. The first four installments include Part One, Part Two, Part Three, and Part Four. As a member of the interim board of Friends and Farmers, I've been thinking about this question off and on for almost a year.
A vibrant local food system requires expanding both the demand for and supply of nutritious foodstuffs grown here along with increased knowledge about the importance of doing so. The Friends and Farmers Co-Op has the capacity to contribute to increasing demand and supply as well as promoting enhanced recognition of the importance of local food.
About 350 food co-ops operate in the United States today. They differ in many respects, but they all share several core attributes: ownership and governance by the members and discounts or yearend refunds of profits for members. (If you want to learn more about the landscape of food co-ops, you can check it out here.) Many feature organic products and healthy, natural foods, and most try to obtain some of their inventory locally. Friends and Farmers (I hope) will differ from most in the extent to which it emphasizes local food and in vigorously pursuing its mission to strengthen local farms and our local food system. The statement of purpose in the Friends and Farmers by-laws, adopted by the interim board last spring, explicitly commits to this mission. The Friends and Farmers Cooperative shall be owned and governed by its members and shall provide members and non-members with access to fairly priced, nutritious food and programs that support healthy food choices. Food and non-food products provided to co-op customers will be locally and sustainably produced to the greatest extent possible with the intention of strengthening the local economy, especially local farmers and food producers.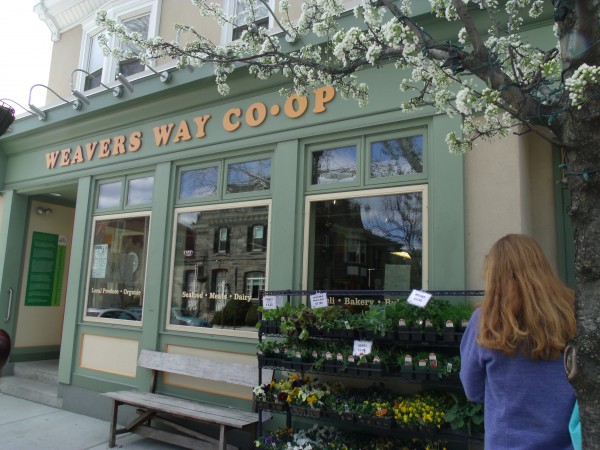 Weaver's Way Food Co-Op has been serving its suburban Philadelphia owner-members since 1973.
Some food co-ops operate in "food deserts," usually impoverished urban or rural localities without conventional supermarkets or other food sources like farmers markets. Our area, however, is a "food oasis," with large traditional supermarket chain stores (Giant, Weis), less traditional up-scale stores (Wegman's, Trader Joes), and both farmers markets and natural food stores (Nature's Pantry, The Granary). But trying to eat local as much as possible is challenging. Few supermarkets offer much truly local food. Some persons' schedules make it difficult to attend farmers markets when they are open. And many products that could be grown or produced locally like grains or tofu are not available or exist only in limited quantities.
A food co-op would simplify the task of purchasing locally-produced food. Shoppers could come to the co-op at their convenience. With increased convenience, more local food would be sold and demand for products already produced locally would rise.
But Friends and Farmers could also take the initiative to introduce new products currently not produced locally. No farmer will invest the time, effort, and money required to grow local rice, wheat, spelt, organic soy beans, sunflower or canola for cooking oil, or tubs of pickling cucumbers unless they know they can sell them. The co-op could forge agreements with farmers to grow them, help finance the infrastructure needed to produce them (grain harvesters, cleaners, drying equipment, grain mills, oil seed presses), and guarantee a buyer. It could even produce some finished products itself–tofu, pickles, dried currants, and so forth.
Our local food system cannot reach its full potential without increased public understanding of the health and economic benefits of buying locally-produced, fresh food at a fair price that allows our farmers to stay in business and make a living. Friends and Farmers can play a central role in growing this understanding through its educational efforts.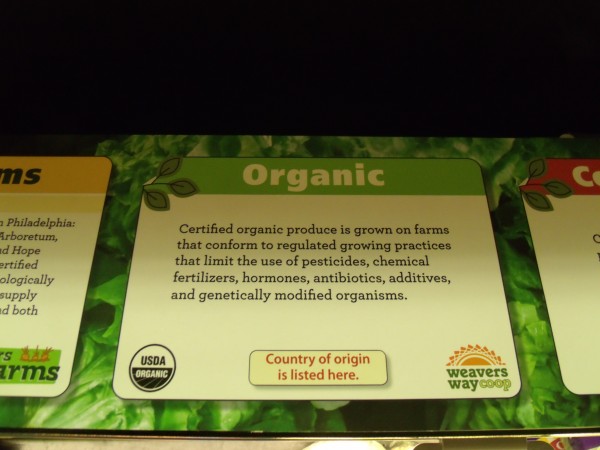 Weaver's Way Co-Op provides excellent information on the labels of the products it sells, educating its customers as they shop. Here they explain what the "organic" label on its products signifies.
Friends and Farmers Co-Op is about to become a reality. If you haven't signed up for its email updates, you can do so at: http://www.friendsandfarmers.coop/
Author: James Eisenstein
Bio: Unpaid Field Hand at Jade Family Farm | Former Penn State Professor