Posted by Emily Wiley on 08/17, 2011 at 02:41 PM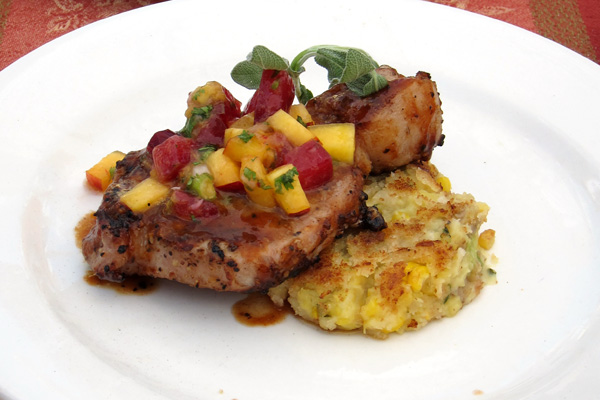 You can always find farmers at the Boalsburg Farmers Market. And butchers and bakers and cheese makers. But there were a few new faces to see yesterday afternoon.
Chefs who typically work their magic behind the scenes of our favorite local restaurants sharpened their knives, packed their frying pans and portable stoves, and came out to compete in a cooking competition. Contestants included: Jamsion Steffan and Gus Aranguiz from The American Ale House, Mark Johnson from Elk Creek Cafe + Aleworks, Harrison Schailey from Harrison's Wine Grill, Sean Kelly from Kelly's, Pete Herncane from Otto's, and Andrew Monk from The Sustainable Kitchen. Their task was to prepare two dishes using ingredients found at the market. The dishes were then judged on creativity, taste, and presentation.
Every dish was delicious and unique. I know this because I was honored to be one of four judges—along with Patty Satalia of WPSU, State College Mayor Elizabeth Goreham, and local Italian chef Grace Pilato. The four of us ate our way around the market, inspired by what the chefs did with pork from Cow-A-Hen Farm, lamb sausage from Tamarack Farm, sweet corn from Audry Farms, apples and peaches from Way Fruit Farm, fusilli from Fasta Ravioli Company, tomatoes from Mothersbaugh Farm, cheddar cheese from Beiler Farm, and more.
It was difficult to choose the winning chef—but there was just one Golden Basket to award—and that honor went to Chef Harrison. His grilled pork chop was tender and sweetened by a fresh plum and nectarine salsa, and the corn and pepper jelly potato cake that sat beneath it was full of flavor. And his summer peach bread pudding dessert was one of our favorite dishes of the day.
We also gave special mention to Chef Monk for his creative and spontaneous use of ingredients—a salad of poached leeks, roasted carrots, apples, rhubarb, and cucumbers with a honey-chili vinaigrette and a "deconstructed gumbo" with roasted potatoes and smoked kielbasa.
Finally, we recognized Chefs Steffan and Aranguiz for their beautiful beet salad. The beets were both roasted and raw, and the salad was topped with fruity olive oil, dry cured goat cheese, sprigs of mint, and sunflower petals. Each bite tasted different than the previous, and it was the most artistic presentation of the day.
Congratulations to all of the chefs! There wasn't a single dish that we wouldn't recommend.
Author: Emily Wiley
Bio: WPSU Multimedia Producer | Wife and Mother | Lover of Food and Photography | One-Half of The Culinary Couple