Posted by Jamie Oberdick on 06/10, 2015 at 02:49 PM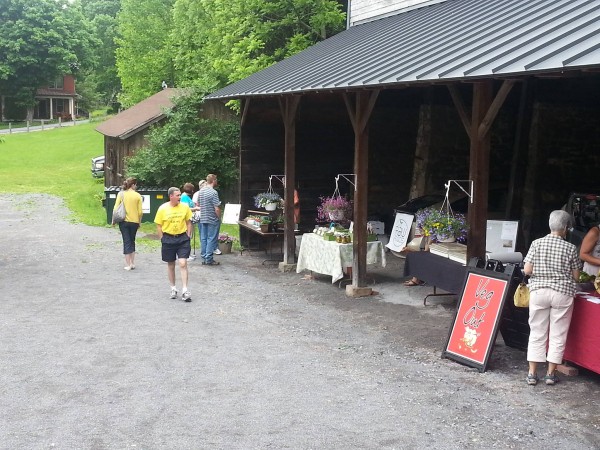 One of the more scenic and interesting communities in Central Pennsylvania is the quaint town of Lemont. Artsy, friendly, historic, and filled with beautiful old houses, it stands to reason that they would have a farmers market. It just makes sense.
The Lemont Farmers Market is a relatively new market in our area, and it's also one of the most picturesque ones. The market was founded in 2012 by the Lemont Village Association and is located at the John I. Thompson Grain Elevator and Coal Sheds, known to most in the area simply as The Granary. Built in 1885, The Granary was originally constructed for storing grain and for a place for trains to deposit coal. Today, the coal shed part of The Granary makes for a unique and beautiful location for a farmers market. "We have such a perfect site for a farmers market," said Susan Smith, chair of Lemont Village Association board.
"It is the most picturesque and comfortable market in the area, bar none," said Anna Kochersperger, Lemont Farmers Market's new manager, who just started this year. "The granary and coal sheds at the base of Mount Nittany is just about the most idyllic place on a spring day. This market is nestled in the space between the Granary and Centre For Well Being, so very little rain, sun or wind. Just dappled sunlight, and a light breeze."
Because it's such a great location, Smith said, there was always talk of having a farmers market at The Granary, but Department of Agriculture regulations were much stricter and no one had time to deal with them. Then, in 2012, regulations were relaxed and the market was born.
The market has grown in its four years and offers a variety of local products. Along with the location, Kochersperger said that the vendors are also a big reason to come to Lemont for the market. "We are a fairly small market, but I think each of our vendors bring something really specific to the market," she said.
Kochersperger gave some examples of unique vendors at the market. These include Veg Out, featuring seasonal vegetables; Brazilian Munchies, featuring ready-to-eat Brazilian food such as delicious empanadas; Garden Secrets, who she mentioned offers the best beer mustard she's ever had; Bee Tree Berry Farm, featuring berries; Scenic View Farm, an Amish vendor offering vegetables, eggs, maple syrup, and raw honey; and Serendipity's Cakes of Distinction, offering gluten-free baked goods, just to name a few. She also is a vendor herself for the company she co-owns, Rothrock Botanicals, selling natural and herbal body products such as scrubs, masques, aftershave, beard oil, and mustache wax.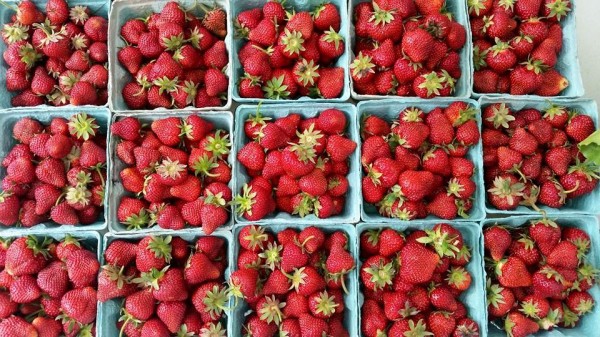 Fresh strawberries are now available at the market. Photo via Lemont Farmers Market Facebook page.
The size of the Lemont Farmers Market is one of the things that makes it nice, Smith said. "It's not so overwhelming," Smith said. "I think if people go to a big market, they can end up wandering around like in a huge grocery store, thinking 'oh my gosh, what did I need?' I like that it's small."
Along with the cozy size, the vendors make people feel welcome, Smith said. "The vendors are very nice, they take time to talk to people and they also do recipes and suggestions on how to use unusual products," she said. "That's very true of the vegetable people, if someone says "what in the heck is that?", they reply with a recipe for what to do with it."
"Not only is the food better tasting and for us, it is made by people we love," Kochersperger added.
The friendliness and sense of community at the farmers market fits in well with overall feel of Lemont, Smith said.
"One of the goals of the Lemont VIllage Association is to build community," she said. "I go to the market and spend time talking to people, it's a way for neighbors to meet neighbors, and it's great for people who are new in town to meet new people. It's within walking distance for an entire community."
"You feel safer in a community if you know your neighbors, and visiting the market is a way to know your neighbors and discover that Lemont is a great place to live," Smith added.
Kochersperger said that the market is still looking for a few new vendors, especially meat and/or dairy vendors. They are also looking for musicians to provide mood music. "Any vendor looking to pick up a smaller market may be encouraged to know that we have electricity," she said. "In the past we even had a meat vendor leave a small chest freezer here all season, padlocked and covered, to make participation easier."
The market is open on Wednesdays until October 21 from 3:00 to 7:00 p.m. "The hours of this market are great," Kochersperger said. "We are open until 7, so if you work until 6, no problem. Come on down!"
To learn more about the market, including how to become a vendor, please go to the Lemont Village Association's website.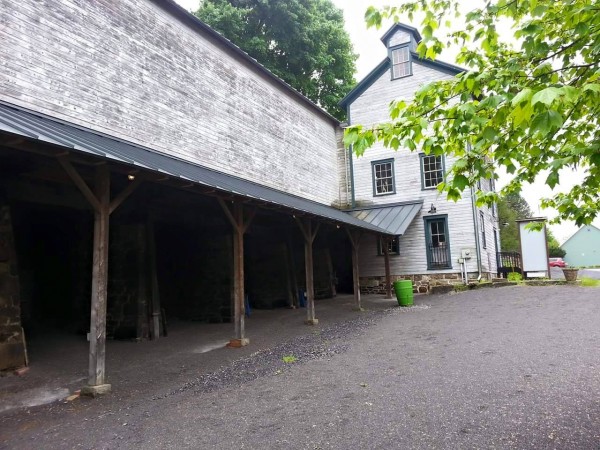 The Granary and Coal Sheds reflect Centre County's history and provide a bucolic setting for the market.
Author: Jamie Oberdick
Bio: Editor, Local Food Journey | Passionate about supporting local food in Central PA