Posted by James Eisenstein on 09/02, 2015 at 11:51 AM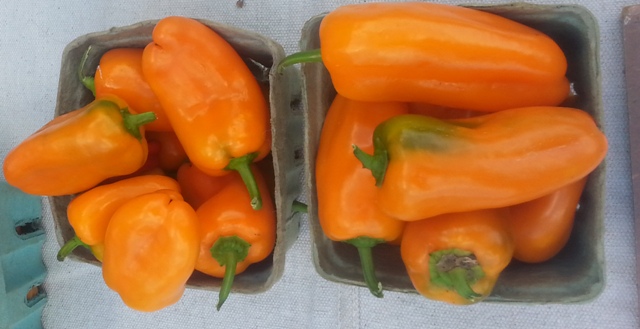 Have you ever thought about how the beautiful peppers you see at farmers markets got there?
"The farmer brought them in his van" isn't the sort of answer I'm looking for. I got to thinking about this the other day as I was harvesting peppers. Unless you are a home gardener or your parents had a garden (that you undoubtedly refused to help weed) when you were growing up, you may well have little idea. This serious deficiency is about to be remedied, thanks to the ole' Unpaid
Field Hand.
I'm not going to tell the whole story—buying seeding flats, mixing seed starter soil, planting seeds, watering flats, preparing growing beds and laying down ground cover and irrigation drip lines, transplanting, or weeding (thistles, ragweed, plantain, and other fast growing plants that sprout right next to the hole in which the seedling was planted or in the space between beds). We are just talking harvesting here.
If you think it is just a straightforward process—mindlessly march down the row, pick the peppers, put them in the basket—you aren't quite right. It takes more effort and especially thought than you might think.
Below is a picture of what the row of peppers I harvested while I concocted this edifying piece looks like. Sharp eyed readers will observe that few peppers are to be seen. So the first step is to stoop or kneel down (not as easy as it sounds to people not yet in their 70s) and examine the plant, with frequent stops to cut out rapacious weeds that have invaded since the last weeding.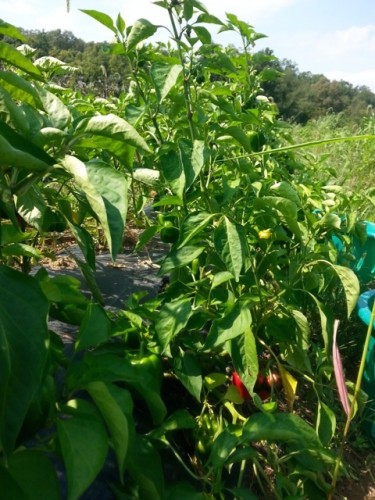 A close up for a row of plants ready for harvest
Naturally, you don't harvest every pepper you see. First, you need to cut off the peppers that are deformed, discolored, partially diseased, or otherwise unsuitable for anything but the "seconds" basket. My instructions from Field Commander John were to pick all of the colored bell peppers, about two baskets of bigger green bell peppers, and any Jimmy Nardello sweet frying peppers that had any red in them. Second, I left a number of nice green bell peppers in the fond hope they would ripen to red, orange, or yellow.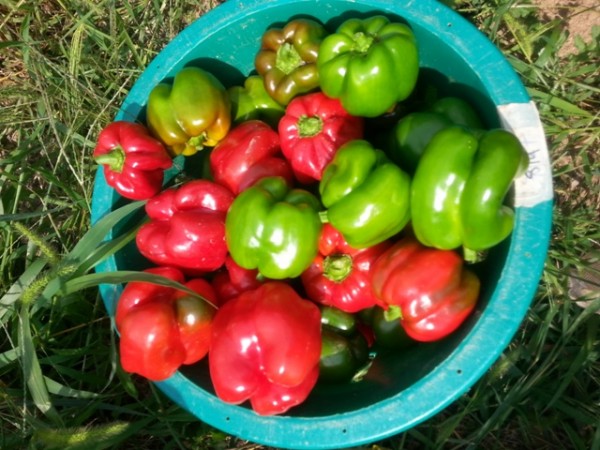 We put harvested peppers in a green basket for transfer to our cooler
The process of cutting the peppers can be challenging. Sometimes, the peppers have very short stems, so you need to go into contortionist mode to get just the correct angle on the clippers to cut the peppers stem without punching a hole in it or severing the plant where you were carelessly cutting.
Another fun situation arises when the pepper is growing in the middle of the plant. If it isn't removed, regardless of whether it is ripe or not, it will split the plant, resulting in fewer or even no more peppers. The picture below illustrates this situation.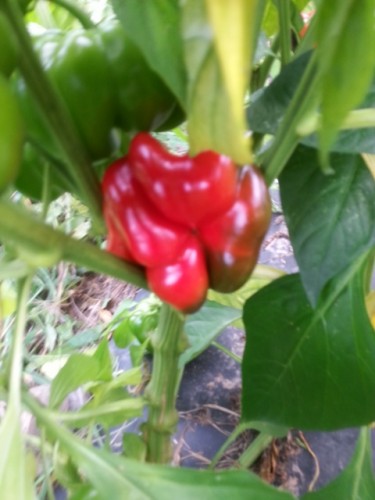 This pepper had to be harvest (so very carefully) so its subsequent growth would not split the plant in two.
It took about two and half hours to harvest these peppers. Most (but not all) harvested are pictured below.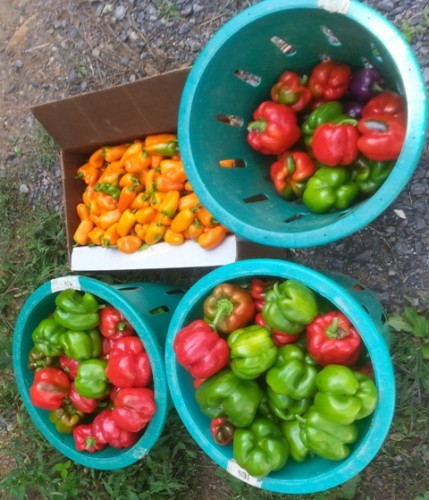 So, next time you buy fresh peppers, give a quick thought to the field hands who navigated the intricacies of harvesting them.
Author: James Eisenstein
Bio: Unpaid Field Hand at Jade Family Farm | Former Penn State Professor