Posted by Jamie Oberdick on 04/18, 2013 at 05:47 PM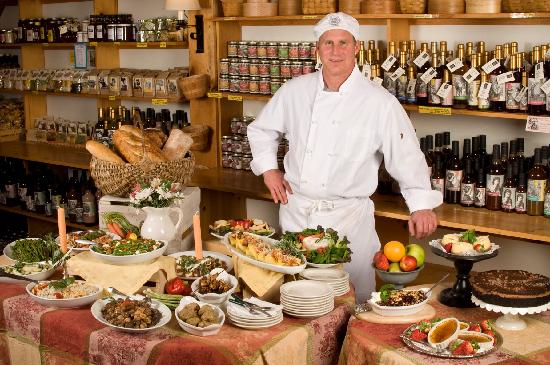 As our Unpaid Field Hand pointed out yesterday, the local food scene here in Central Pennsylvania is growing as rapidly as a tomato plant in June. One of the pioneers and advocates of local food is Harrison's Wine Grill and Catering, located within the State College Hilton Garden Inn. They do local food and they do it quite well, as evidenced by multiple awards for both their restaurant and their catering. This Local Food Journey post will take a look at how Harrison's built relationships with local farms and other vendors to become a go-to source for innovative dishes made with Central Pennsylvania ingredients.
"When we started, the first local food source we reached out to was Tait Farm," said Kit Henshaw, co-owner with the restaurant/caterer's namesake, chef Harrison Schailey. Together, Kit and Harrison make an A-level team to run an establishment like Harrison's—Kit finds the ingredients and builds relationships with local providers, and Harrison works magic in the kitchen.
The early relationship with Tait Farm was a very informal one, given that at the time there really weren't that many local farms and restaurants working together. Originally they wanted Tait's famous asparagus, but it was all spoken for by other customers. Thankfully, it was a good year for other crops. "The farmer had some bumper crops and came to our back door with three big boxes of green beans," Kit said. "Harrison made something great with those green beans, and really that's how it started."
After building a relationship with Kim Tait of Tait Farms over several years, the farm started planting specifically for Harrison's. They got six CSA shares, and Tait Farms even adapted to Harrison's needs by delivering the shares, something they didn't do at the time.
From this start with one farm, Harrison's quickly built partnerships with other vendors. Three Bell Cheese Farm is one example, as is Green Heron Farms. They also offer products that may not have all local ingredients, such as Suzi Wong egg rolls, Gemelli's bread, and Fasta Pasta.
Beef and mushrooms
A staple of many innovative menu items is mushrooms, and Harrison demonstrates a deft touch with them in dishes such as Wild Mushroom and Chevre Pappardelle, and Mushroom Bruschetta with oyster, button, and shitake mushrooms. Fortunately, Kit said, we truly live in a mushroom state. "We're lucky that Pennsylvania has such a large mushroom industry," she said. "So, we make sure we are always using Pennsylvania mushrooms not just any mushrooms."
Harrison's, Kit said, started regularly serving local beef this past year via Emily Rogers of Hidden Pond Farm, who supplies Elk Creek Cafe and Aleworks with beef. In the past, they found the local beef to be too inconsistent and too lean. "The minute we served it, people complained because it was too lean," Kit said. "That's the problem with grass-fed beef; your restaurant customer doesn't want that very lean kind of beef."
However, Hidden Pond Farm worked with them to offer a consistent quality of beef. They bred the same kind of cattle over and over again, and held the beef in a freezer for Harrison's until they would need it. "Emily created a system that would work for us," Kit said. "This sort of partnership between the producer and the restaurant of how to make everything work is so important. We love that so many have flexibility."
Local ingredients, global cuisine
Kit and Harrison lived in San Francisco before coming to State College, and both their former home and the surrounding wine country continue to influence what they serve on plates at Harrison's. "We pay a lot of attention to what is happening in that area," Kit said. "Because both San Francisco and wine country are ahead of us here as far as food ideas."
In turn, San Francisco food is often influenced by international tastes, and this in turn helps inspire what Harrison's serves. "I think we reflect most foodies in that we like global flavors. We Americans like global flavors. Today we want Asian flavors and tomorrow we want Italian flavors and the next day we want Greek," Kit said. "I think it's a reflection of not only us but every one's taste lately. Plus, those cultures have been cooking their foods for a really long time and they are good flavors that are proven over time."
If variety is the spice of life, the same can be said of Harrison's varied, global menu items. "For instance, we will think of a beef dish 'how do we make this more interesting instead of just a charred steak'."
This thinking is then applied to local ingredients. One can say that Harrison's follows a sort of culinary version of "think globally, act locally" on their menu.
What is it and what do I do with it?
Sometimes, figuring out what to do with locally-grown ingredients can be a real challenge, even if Harrison wants to make something with more American flavors. Those who get a CSA share likely know of instances where they pick something out of the share box and wonder "what on Earth do I do with this thing?". This, Kit said, can even happen to a well-seasoned chef like Harrison. Kit mentioned an example of when Tait Farm sent them a load of a rather alien-looking vegetable, kohlrabi.
"He never has had to use kohlrabi before but they send us a lot of kohlrabi," Kit said. "Harrison wondered 'what the heck do I do with kohlrabi,' but he had to figure out what to do with it just like many people have to do with something unusual in their CSAs."
"Everybody just wants the sexy, exotic salad greens but we get all these other things from our providers," Kit added. "That's why we have an automatic salad or side during the growing season. Another example, sometimes we will get apples and Harrison has to take those apples and get them onto some kind of salad."
While this can be a challenge, Harrison is always up for it. "He's the kind of a person who doesn't like restaurants to do the same thing over and over and over again," Kit said. "That is what allows us to change what we offer. His skills and desire to try new things drive our menu."
Kit said he can even come up with things that are tasty out of stuff that he personally doesn't like, such as strong-flavored greens like chard and kale. So, Kit said, that global thinking comes in handy when inventing new menu items from such things.
"Where do they use bitter greens? Italy!" Kit said. "He likes soft flavors being a chef but I finally got him to make a Tuscan bean soup with fresh chard. We were thinking of Italian wedding soup and how it uses escarole. So that's kind of what it is, it's a play on Italian wedding using fresh chard. As soon as he put the chard in there all the flavors went together so well. As a result, now he's real comfortable using chard."
Meeting the expectation of innovation
Harrison has to be this innovative with local ingredients because, Kit said, that's what people expect from Harrison. "A lot of people at home get their CSA and just make a stir fry or something," she said. "And it's delicious but you don't want that when you go a restaurant."
With warm weather finally here, .(JavaScript must be enabled to view this email address), and Kit gave a few examples of what they have to offer. "The goat cheese fritters are made with this local goat cheese, it's very mild and fresh," she said. "Harrison created this fig and olive relish to go with, technically not local products but it balances it out quite nicely Tait Farm is bottling it for us."
Another example that Kit gave was the Wild Mushroom and Chevre Pappardelle, featuring local mushrooms and State College's own Fasta Pasta and the Fresh and Local Beef Empanadas. "With the empanadas, you are getting South American flavors but with Ferguson Twp beef."
Kit added a few other examples, including Summer Grilled Pork with Corn-mango Salsa that is made with fresh pork from Hog's Galore, and Chef's "Mac and Cheese", a creation made with cheddar cheese from Millheim's Goot Essa cheese co-op.
"Harrison is the creative person, I find the partners and get the stuff to him so he can use it," Kit said. "He's the one who makes it taste great but he's not the one out prospecting for it. I do that. I have found if I get a lot of really good ingredients in front of him, he can do something really tasty."
Author: Jamie Oberdick
Bio: Editor, Local Food Journey | Passionate about supporting local food in Central PA