Posted by Will Nichols on 08/06, 2010 at 06:05 PM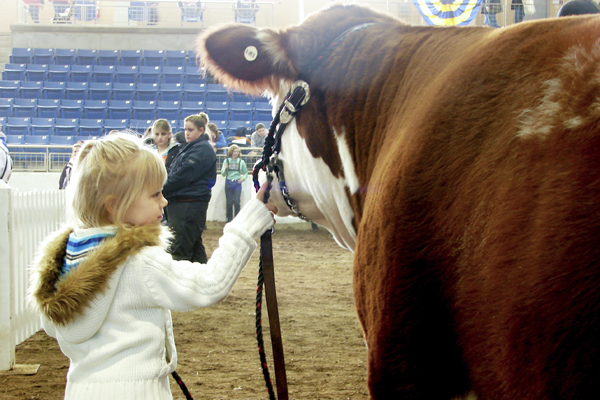 What's in your freezer? Sausage, bacon, or ham for breakfast? Beef patties or flat iron steak for lunch? Lamb chops or roast for dinner? Believe it or not, you can find all of this meat and more at your local county fair.
Find a fair.
Young 4-H and FFA members spend months preparing their project animals – from rabbits to steer – for county fairs. Animals are evaluated and judged for quality and amount of meat, and the subsequent sale of the animal completes the project.
To find a fair near you, go to the Pennsylvania State Association of County Fairs website. You can also contact your local extension educator for a youth roundup location and date.

Make room in your freezer.
While a typical finished steer weighs around 1,225 pounds, the actual carcass weighs about 775 pounds. And after cutting the carcass into steaks, roasts, and burgers, usually about 450 pounds of meat remain.
Other species have similar results. For example, a market hog weighs about 250 pounds and yields 125 pounds of ham, sausage, and bacon. A market lamb weighs 110 pounds and yields about 40 pounds of roasts, lamb chops, and other cuts.
But that's still a lot of meat. A full-size freezer, rather than one in combination with a refrigerator, is necessary for an entire beef or pork carcass. Alternatively, your local butcher may rent lockers to store extra meat.
If 450 pounds of beef sounds formidable, ask friends to split a steer with you. Splitting a steer four ways allows for several of each cut of meat and lowers the cost to $375 per person.

Arrange a slaughter date.
It is advisable to have your slaughter date arranged well in advance of your purchase. Ask around about local butcher options.
Buy the animal.
First, scope out the available animals at your fair. If you have questions, ask a 4-H leader or FFA advisor.
On sale day, sign up with a buyer number, and start bidding! Don't be bashful; your bids help drive up prices for other exhibitors.
When you have successfully purchased an animal and paid for it, make arrangements to have the animal shipped to the butcher. Then you can pick up your meat at your convenience.

What are you waiting for?
Decide what type of meat you want, find a local fair, identify a butcher, scope out the animals, and BID! It's a win-win-win situation: You'll have a supply of fresh, local meat, you'll give business to a small, local butcher, and you'll help prepare the next generation of American farmers.
Author: Will Nichols
Bio: I'm a senior at Penn State in animal science. I love music, but my life is with my cows and with agriculture. It will be my career.