Posted by James Sechrengost on 09/23, 2013 at 11:29 AM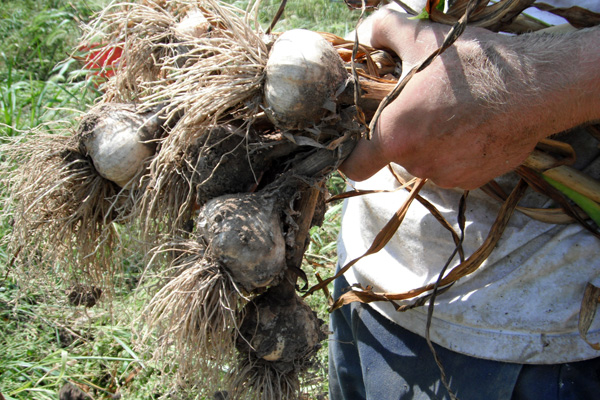 With the closing of the recent Garlic Festival in Pocono I was reminded of the many festivals I attended in Gilroy in SoCal. Now I am a garlic lover, not to the extreme I like garlic ice cream, but I do love the pungent little relative to the onion. What you didn't know that PA had their own Garlic Festival? Check them out at http://www.poconogarlic.com/. We used to load up a van and head to the Gilroy Garlic Festival every year. You could smell the festival miles before you ever got there. Being the foodie I am I headed straight to the food booths. There was always some new and unique recipe I could pick up there.
Now I love putting cloves of garlic in olive oil to make garlic oil. Roasting cloves in the oven drizzled with olive oil and making a paste from the result for garlic bread. Ok I admit it I just love garlic. I have included a recipe for Garlic Pot Roast. Now don't be afraid of the amount of garlic. The garlic mellows quite a bit due to the long cooking process.
Here's the recipe:
Ingredients
- 2 ½-3 lbs. beef chuck roast, trimmed no bone
- 2 tablespoons olive oil
- 1/2 teaspoon salt
- 1/4 teaspoon pepper
- 2 medium onions, thinly sliced
- 24 garlic cloves, finely minced
- 2 beef bouillon cubes or use beef base. I prefer the beef base as it seems to have a deeper richer beef flavor.
- 1/2 cup hot water
- 8 ounces lager beer (you can omit this if you wish, just add more water and beef bouillon/base)
- 3 tablespoons brown sugar (or less depending on how sweet you like it)
- 1 tablespoon Dijon mustard
- 1 tablespoon cider vinegar
- Cornstarch (dissolved in water, for gravy)
Instruction
- In a large skillet, heat 1 tablespoon of the oil and brown roast on all sides, seasoning with salt and pepper.
- Remove to a platter and keep warm.
- Add the remaining tbsp. of oil to the pan and add the onions, cook until they just start to soften then add the garlic.
- Cook until the onions are tender, a few minutes more.
- Add the bouillon cubes/beef base to the hot water and stir until dissolved.
- Add the broth mixture to the skillet along with the beer, brown sugar, mustard, and vinegar; stir to mix well.
- Pour mixture into the bottom of the crock pot.
- Place roast on top of liquid, cutting into pieces if it doesn't lay flat.
- Set the crock pot on low and cook for 7-8 hours.
- Remove meat from crock pot and pour liquid into a pan on the stove.
- Heat to a boil, and make a slurry out of the cornstarch and water; thicken pan liquid with slurry to make a gravy.
- Serve gravy over meat with mashed potatoes or Parmesan noodles (egg noodles cooked per directions, butter, salt, pepper and grated Parmesan).
Author: James Sechrengost
Bio: Computer Guru | World Traveler and Foodie Extraordinaire | Member of the Been there Done that Club