Posted by Jamie Oberdick on 05/20, 2016 at 01:03 PM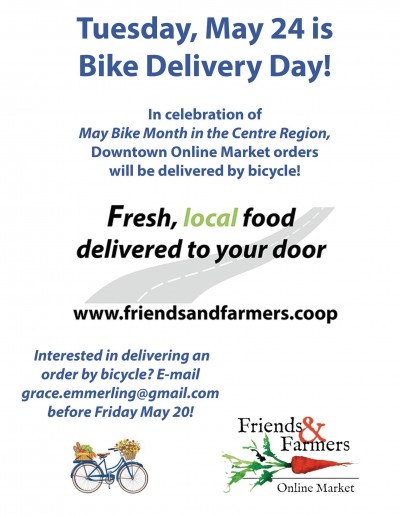 Friends & Farmers Cooperative is getting into the spirit of Centre Region's May Bike Month by offering bike delivery services for some of its Online Market orders on Tuesday, May 24. (See attached flyer)
The Online Market is open noon Fridays to noon Mondays. This week, downtown customers and businesses can opt for bike delivery by adding "Deliver by Bike Please" in the comment section of their order.
The link to the Online Market is:
https://www2.localfoodmarketplace.com/friendsfarmerscoop/
With the support of CentreBike and Vamos Lion Chariot, the co-op has been recruiting bicyclists who want to help deliver customer orders between 4 and 6 pm that Tuesday. Participating bicyclists should have the capacity to carry foods, particularly fragile items like eggs, with care. The Online Market pays delivery cyclists $5 per delivered order and bicyclists can design their own routes. Participating bicyclists should gather at The Meetinghouse on Atherton, 318 S. Atherton St., at 3:30 p.m. on Tuesday, May 24. To sign up, please e-mail .(JavaScript must be enabled to view this email address)
If you'd like to take a photo of our bicycle deliveries, please also report to the Meetinghouse on Atherton at 3:30 on Tuesday, May 24.
Friends & Farmers Cooperative is a community-owned, democratically-controlled business working to open a grocery store that will give priority to our local farmers and producers. As a stepping stone toward that goal, the co-op launched an Online Market that delivers fresh, local food to 12 zip codes in Centre County. (Customers can also pick up their orders every Tuesday at two locations, The Meetinghouse on South Atherton and State College Friends School.) Unlike a CSA, customers of the Online Market choose what they want, and as much as they want, from 30 local vendors. The Online Market offers tangible progress toward the Friends & Farmers mission: to support and grow the local food economy while offering customers delicious, locally grown and produced food.
For more information about the co-op, visit www.friendsandfarmers.coop.
Author: Jamie Oberdick
Bio: Editor, Local Food Journey | Passionate about supporting local food in Central PA