Posted by Jamie Oberdick on 03/20, 2015 at 11:59 AM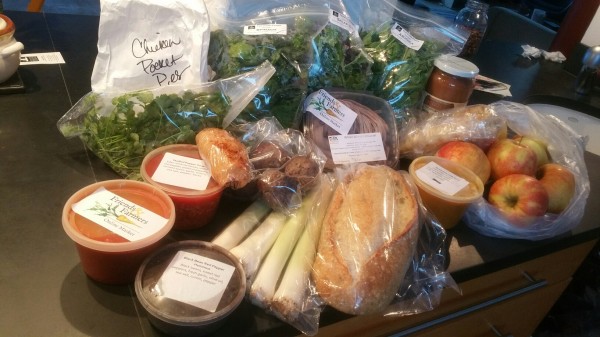 Friends & Farmers Cooperative, which is working to open a member-owned cooperative store that will specialize in local, sustainably-produced products, began home-delivery service for its Online Market on March 17. Customers in zip codes 16801 and 16803 (State College), 16851 (Lemont), 16827 (Boalsburg) and 16868 (Pine Grove Mills) can pay $5 to have fresh, locally grown and produced food delivered to their doorsteps.
Friends & Farmers opened the Online Market in November, offering consumers an easy way to purchase items from some of the same local producers participating in central Pennsylvania farmers markets. Launched as a stepping stone to opening a brick and mortar store, the Online Market offers tangible progress toward the Friends & Farmers mission: to support and grow the local food economy, while offering consumers convenient, nutritious and delicious locally grown and produced food.
Since launching in November, the Online Market has contributed nearly $14,000 to the local food economy. The market averages 35-50 orders a week, and 250 people have registered as customers.
Currently, the market partners with 13 vendors offering a diverse range of products, including vegetables, apples, meat, salmon, eggs, milk, cheese, bread, prepared foods, and hot sauces. The market recently added two new producers: Fasta & Ravioli Co. and Good Seed Baking Co., a dedicated gluten-free bakery in downtown State College. And Tait Farm Foods, which has been selling on the market since it launched, recently added its jams, shrubs, sauces, chutney, and vinaigrette. For a complete list of vendors, and to sign up as a customer, go here.
Shopping is as easy as any online ordering. (To read about the experience of one member, go here).
Once registered, you will receive product updates and reminders about ordering. Place your order between 6:00 p.m. Friday and noon Monday, then pick up Tuesday between 4:00 and 7:00 p.m. at Good Shepherd Catholic Church, 867 Grays Woods Boulevard, near Geisinger Gray's Woods clinic, just a few minutes from Otto's. Or, for customers in select zip codes, pay just $5 for home delivery.
Friends & Farmers owner-members pay a lower service charge for their online market orders. Membership in the cooperative is a great way to support our local food producers, keep more money in the local food economy and expand local food access in our community. (For more information about membership, go here.)
Stay tuned for some exciting Online Market developments, including a program for SNAP beneficiaries that will help them stretch their online market purchases.
Author: Jamie Oberdick
Bio: Editor, Local Food Journey | Passionate about supporting local food in Central PA