Posted by Jamie Oberdick on 02/27, 2014 at 04:47 PM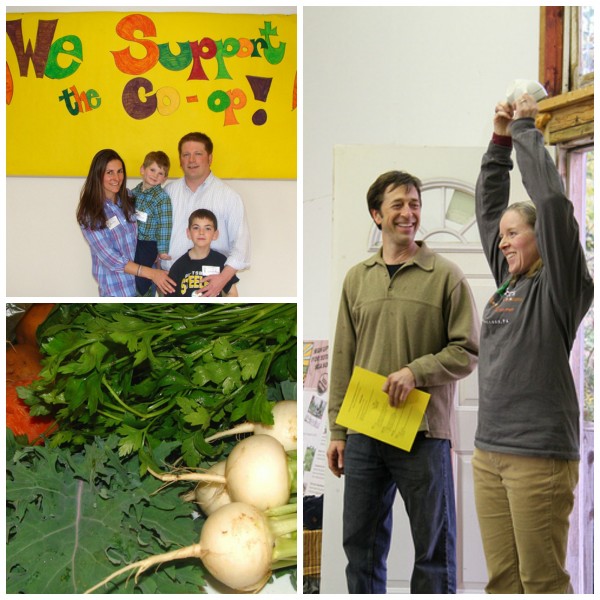 If you read Local Food Journey, you are probably well aware of the Friends & Farmers Cooperative project, which is a food cooperative in State College committed to showcasing the best local products in support of a strong local economy. The good news is you can finally join Friends & Farmers at the Membership Kickoff Celebration to be held Sunday, March 2, from 3:00 p.m. to 6:00 p.m. at the Unitarian Universalist Fellowship of Centre County. You can RSVP here.
Along with signing up founding member/owners, the Celebration will have a lot to offer attendees. It will feature performances by local musicians including Andy Tolins, Scott Mangene, and Paul Brigman & Friends; opening remarks by State College Mayor and local food advocate Elizabeth Goreham; local food donated by various local vendors such as Webster's, Harrison's Wine Grill, Tait Farm, Byler Goat Dairy, Katz Raw Foods, Stone Meadow Farms, and Sweet Sunrise Bakery; kids activities led by the Penn State Community Food Security Club, and more. "The whole setup of this event is 'drop-in,' meaning you don't have to come and be there the whole time," said Michele Marchetti, local freelance writer and Friends & Farmers board member. "The idea is you come when you want, you hear some music, you get some food, and of course, sign up to be a member."
"The March 2 event is the official launch time, however we will also open up online for membership sign-ups at some point on March 2 or March 3," Michele added.
Friends & Farmers have even started a list of early pledges which includes Duke Gastiger, owner of the excellent downtown restaurant Spats, and Theresa Shay, director of TriYoga of Central Pennsylvania. "Flavor is all about freshness and natural nuances," Duke said. "And there is no better way to recapture that fullness of flavor in our memories than to always buy from trusted sources and as local as possible."
How and why of signing up
The membership fee for Friends & Farmers is $300, and this can be paid in one of three ways:
1. One lump sum payment of $300.
2. Three annual installments of $100 (plus a $10/year administrative fee). Members are entitled to all membership benefits with the first installment.
3. Ten annual installments of $30 (This extended payment plan is for members with limited incomes and may include members older than 65, students, members eligible for SNAP benefits, and anyone else who applies to join on this installment plan and meets certain eligibility requirements outlined by the Board of Directors.) Members are entitled to all membership benefits with the first installment.
"Anyone who joins in March will be a Founding Member-Owner," Michele said.
However, Michele offered one critical caveat. "We need 42 members to pay $300 in full in order to initiate our marketing study, a critical step in moving toward an actual store," she said.
So, what are the benefits of membership? First off, Michele said that while there are some very tangible benefits to membership, there's also something less tangible. "This is an opportunity to be part of something bigger, which is a group of consumers joining together to create a business that meets their needs," she said. "We keep saying it's a store that will feed the community. Sort of a chance to own a piece of the vision."
Benefits of membership
Among the more tangible benefits include:
- A voice in what products the store stocks, such as products that are free-range, raw, organic, etc.
- A vote at membership meetings, and the opportunity to serve on the board of directors
- A year-end "patronage dividend" of net profits, based on how much you shop at the store
- Special members only offers and discounts
- Opportunities to purchase harvest season surpluses from suppliers; for example if a farmer has a bumper crop of heirloom tomatoes, members could buy them at discount prices.
- Free admissions or discounts to member events such as workshops, farm-to-table dinners, etc.
The membership for Friends and Farmers pertains to a household. "Only the member/owner would receive one vote at membership meetings and the year-end patronage dividend based on a single member number," Michele said. "But you can have up to three additional household members listed under the member number, so they would also receive the other member benefits."
As mentioned earlier, getting members signed up is critical so Friends & Farmers will have enough money to fund their marketing study, which is a key piece to the Co-op's development. While they did a feasibility study earlier that looked at the economic and social sustainability of the cooperative, the marketing study will not only give more complete and solid data, it will allow them to seek additional funding because the information they get from that report will be useful in obtaining capital from other sources.
The marketing study will be based off one or two specific sites for the store, so sites under consideration will be reviewed to determine potential competitors, demographics, and patterns of sales. "The marketing studies are important so we can make the best decision on where to locate," Michele said. "Marketing studies are not cheap so we need funding over the next month so we can get this underway."
With membership just about opened to the public and the marketing study on the horizon, Michele said she is overall pleased with the progress. "It's important for people to realize that most experts say that it takes a co-op three to four years to get started," she said. "We incorporated in December of 2012 so I think we're right where we should be. This is a long process, it's something completely different and will transform the community so we want to take the time to get all these things right."
Author: Jamie Oberdick
Bio: Editor, Local Food Journey | Passionate about supporting local food in Central PA