Posted by Jamie Oberdick on 09/30, 2015 at 12:57 AM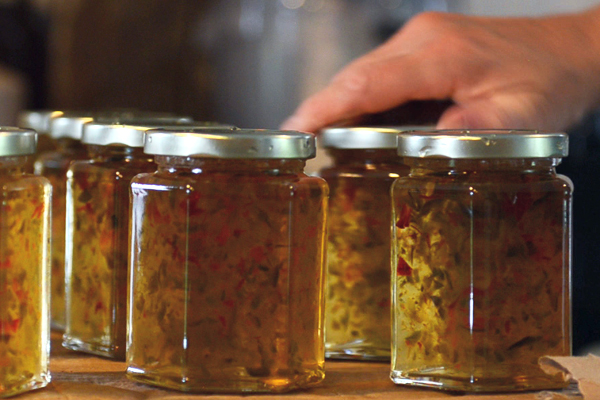 We are in the home stretch of the outdoor farmers market season. Soon, the cold winds and snow will make Central Pennsylvania more a place for skiers and snowmobilers than outdoor farmers market browsers. But, for many area markets, we still have about a month or so to go, and you can still find some great local food among the falling leaves and autumn chill. Here's five examples:
- Good Intent Cider, Boalsburg Farmers Market: Instead of wine at your next big fall gathering, why not try serving a nice glass of locally made "hard" apple cider? Good Intent Cider offers several delicious, crisp varieties of cider that go well with your favorite fall foods.
- Greens from Greenmore Gardens, North Atherton Farmers Market: While many think of salad greens as being a spring thing, similar weather conditions in fall make this time of year the season for salad greens. Greenmore Gardens is one of many local farms who offer salad greens this time of year. Look for items such as arugula, tatsoi, and beet greens.
- Piper's Peck hot sauce, State College Farmers Market: Football tailgate spreads are almost as big of a part of the game as touchdowns, and bringing the heat is almost as important as bringing the pass rush on third down. Wings, chili, etc. all put spice in your football fan life, and Piper's Peck has products to up your tailgate foodie game. For example, their Hot Honey Barbeque Sauce makes one mean hot wing.
- ABB Bison Farm bison meat, Bellefonte Farmers Market: Bison meat is lean and healthy, with less fat than regular beef. At the Bellefonte Farmers Market, you can find various cuts of bison meat from ABB Bison Farm. Whatever you choose, make sure you keep the meat as moist as possible, as the meat can dry out quickly. But properly prepared, it makes for a fine fall Sunday dinner.
- Chicken corn soup, Altoona Farmers Market: A Pennsylvania Dutch specialty, chicken corn soup is traditionally a summer soup, but the combination of chicken, corn, herbs, and rivels makes for a delicious and filling soup no matter the time of year. Altoona Farmers Market has a fine example of it, check their Facebook page to see if it is available.
Author: Jamie Oberdick
Bio: Editor, Local Food Journey | Passionate about supporting local food in Central PA