Posted by Jamie Oberdick on 09/09, 2014 at 11:42 AM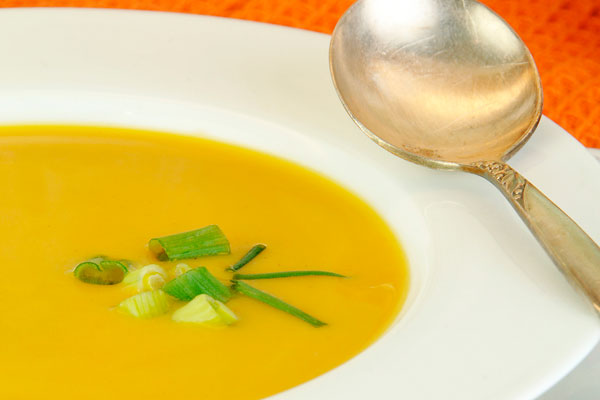 As the leaves turn and the weather cools, our palates start to turn towards more hearty fare. Here's five outstanding local food items that you can find in the area that are sure to warm you up when those first chilly winds of autumn start blowing…
Harrison's Wine Grill and Catering, Roasted Butternut Squash Bisque": Butternut squash is a wonderful fall vegetable, and it really shines in soup. The mild sweetness of butternut squash is enhanced by roasting, and Chef Harrison Schailey offsets the mild flavors with garlic and other vegetables. It's quite complex, and quite wonderful.
Scott's Roasting, Roast Pork Sandwich: George and Brenda Scott started their pork and sausage business in 1995, and since then they've been serving up all sorts of goodies made with pork from pigs they raise themselves (hormone-free) from their stand at various events like fairs and carnivals. Their roast pork sandwich with barbeque sauce and pepper slaw is a wonderful mix of flavors that make for a very good lunch. They will be at several more events this fall, find out where here.
Way Fruit Farm, Apple Cider: Apple cider (the non-alcoholic kind) is a Pennsylvania fall staple, and one of the finest examples of the beverage can be found at Port Matilda's Way Fruit Farm. Way uses care when choosing the right apples to make their cider, and this is clear in one taste. It's great served cold or hot, with a cinnamon stick.
Otto's Pub and Brewery, Oktoberfest: Beerheads live for Oktoberfest time, when Märzen-style beers make their appearance. Otto's Pub and Brewery will soon offer their entry into the style; a tasty orange-red tinted brew that has a great malty flavor with a toffee-caramel finish.
Cafe Lemont, Vegetarian Chili: Nothing beats a good bowl of chili in the fall, and Cafe Lemont has a vegetarian chili that is just fantastic. It's not always offered but when it is a soup of the day, it's a "must-order". Who needs meat with flavors this good?
Author: Jamie Oberdick
Bio: Editor, Local Food Journey | Passionate about supporting local food in Central PA