Posted by Erin McKinney on 11/10, 2011 at 01:59 PM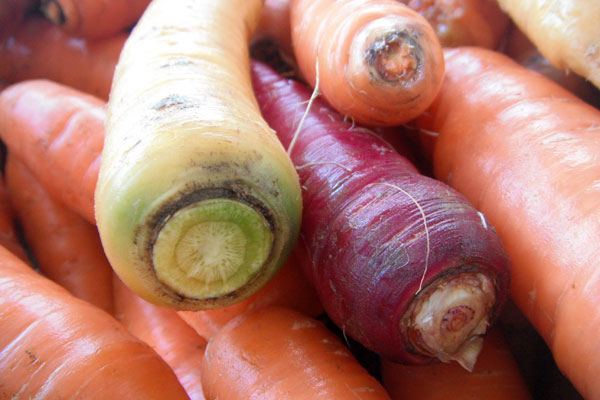 I had never belonged to a CSA before I came to Tait Farm. I read about them, knew of some, and had friends and coworkers who picked up their shares weekly and absolutely loved being a part of it. We, however, were lucky enough to have a plot of land large enough to grow more than enough of our own produce.
The more I became comfortable with cooking and eating seasonally, and/or with what was available to use, the more I veered off the normal path to the grocery store. There was a point when I became practically uninterested in cookbooks if they didn't use seasonally arranged recipes, or ingredients that couldn't be substituted for something more local (and by local I mean the crisper in my refrigerator). The visit to the fruit section in the produce store occurred less and less, to a point when I only occasionally picked up my favorite non-local treat: avocados.
Now that the high season is winding down, and we only have a few weeks remaining until our Half-Year CSA share ends, I find my mind reminiscing over the past year.
Countless crops flourished and were transformed into wonderfully delicious dishes. All of the colors, textures, and tastes that make eating an occasion are also a celebration of clean, healthy, organic fuel that our bodies need.
Often, my time in the field has me thinking about what I am going to do with each vegetable when I get it home and into my kitchen. Today the beautiful rainbow carrots are what really had my mind reeling. Eye-popping purple, yellow, and orange carrots make a sound when plucked from the ground that is nearly as sweet as the flavor they bring to our plates. It doesn't take much to turn them into something delectable, but it might take a lot of willpower not to snack on them while preparing that awesome dish!
We couldn't ask for nicer days in November, and soon we'll be gathering for feasts wherever you may call home. But before going to the stores and gathering the produce for all of the "classic" dishes that normally grace a Thanksgiving table, think about what you already have. You might just come up with a whole new favorite dish that, like a "good carrot year," may only come around every few years!
If you are interested in learning more about Tait Farm's CSA Community Harvest, please contact the farm at 814.466.2386, or visit the Tait Farm Foods website.
Author: Erin McKinney
Bio: Tait Farm Farmer | Community Harvest CSA | Lover of Food and Farming | Author of Field Notes, Community News, and Good Earth e-publication for Tait Farm