Posted by Erin McKinney on 06/16, 2011 at 05:37 PM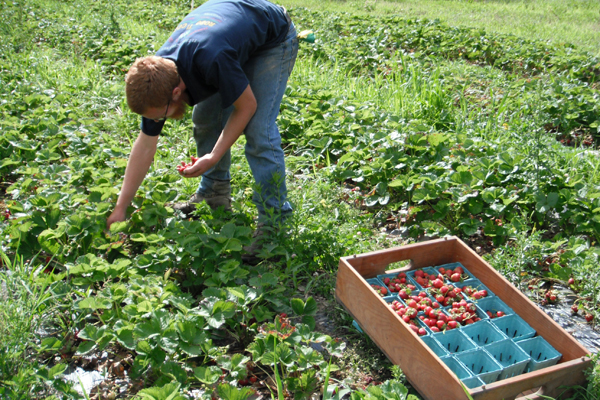 The soil in the fields has been through so many changes already this year. It has been pounded and compacted by torrential downpours in early spring and then dried to a hard-as-a-brick state after a few weeks of really dry, hot days. This constricted the root development of a lot of crops, which, unfortunately, leads to a poor yield when the roots of crops like radishes are what you are looking to reap.
However, the rains and cloudier days of mid-June have really helped to improve the condition of the soil. These make for great days to plant, too, and so we have a lot of transplants going into the ground. It might possibly add a glimmer of hope for some of those early root crops like the scarlet and hakurei turnips, which may use this opportunity to grow before the summer heat moves in. The radishes that were planned to be a perfect pair to salad mix, however, are probably a loss for now. We can only look forward to planting them again in the fall, which is seemingly right around the corner.
We're excited to see the strawberry crop do well, though, after devoting a lot of time to it. If it doesn't rain too much (berries dislike too much rain), we should have some next week as well. (The Tait Farm Harvest Shop might have other locally grown strawberries available if you are looking to preserve them or make jam.)
Lettuces of all shapes and colors are a welcome addition this month, too. The kales and collards are doing great, and we will continue to switch back and forth between those and chard for the next few weeks.
Come on by Tait Farm this Saturday to walk around the fields where your food is grown. Join us for our Solstice Celebration to benefit the Centre County Farmland Trust. The Local Food Journey will be there, too, and we would love to see you!
Author: Erin McKinney
Bio: Tait Farm Farmer | Community Harvest CSA | Lover of Food and Farming | Author of Field Notes, Community News, and Good Earth e-publication for Tait Farm