Posted by Kim Tait on 03/08, 2012 at 12:59 PM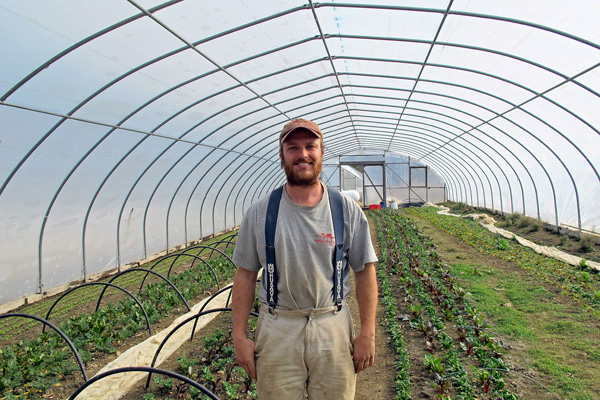 The feel of early spring is already in the air. The smell of sleeping soil waking up, the reddening tips of the trees as the sap begins to flow upwards, and the songs of robins are just a few of the early harbingers of spring. We are continuing to stay busy seeding in the greenhouse, spreading compost on the fields, finishing up the new high tunnel and generally trying to get all the winter
work completed.
With the comings and goings of every season and year, we have learned to embrace the notion of continual change. As we move into our 13th season of Community Harvest, we are preparing to say goodbye to farmers Steve Spanelli and Erin McKinney and welcome our new farmer, Adam Raish. We have huge gratitude to Steve and Erin for everything they have given to the farm and all of us. Under their leadership, we have grown over 100,000 pounds of organic produce the past 4 seasons. We won the 2011 'Quality of Life' Award given out by the Centre County Chamber of Business and Industry, put up a beautiful greenhouse to grow our own seedlings, as well countless other gifts they gave. We wish them both the best in their next endeavors. Erin has already moved to the Ashville, North Carolina area and Steve has a new position as sous chef at Otto's in State College. Thankfully, he will continue to come help out on the farm on his days off!
Adam comes to us from our friends at Village Acres Farm in Mifflintown where he has been overseeing organic field and greenhouse production for the past four seasons. We feel very fortunate to have someone with his skill and knowledge coming to the farm. He and his family (wife, Torrey and 2 girls, Ella and Emma) have recently moved to the farm. So the circle of life and farming continues, as we welcome the next farmer onto the land. Welcome Adam!
Author: Kim Tait
Bio: Co-Founder, Tait Farm Foods and Community Harvest CSA