Posted by Kim Tait on 07/05, 2012 at 06:15 PM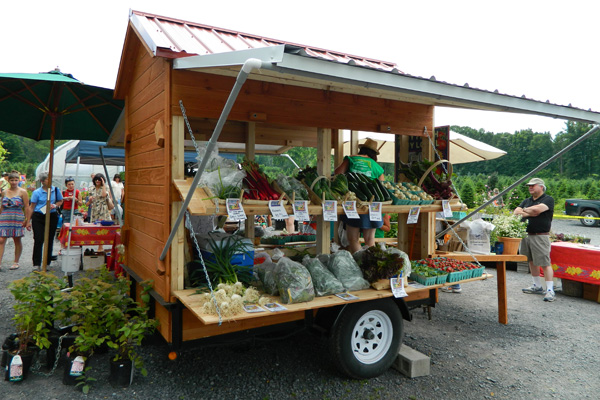 One of my fondest childhood food memories was frequenting local farm stands in the summer to get fresh fruits and vegetables. I remember our dinners often consisting of sweet corn, green beans, sliced tomatoes, and peaches for dessert. I was fascinated that the fields growing the food were right there, sandwiched between the rapidly expanding housing developments of Southern California. But it was that experience that developed my true appreciation for the taste of fresh food and I have never looked back.
Fast forwarding from those early experiences to the present, I still love to frequent farm stands wherever I travel. It helps me connect to the place, the people and that earth. So when we had an opportunity to write a small grant to the PA Department of Agriculture (PDA) to get our own farm stand at Tait Farm, it seemed like just the thing to do. Realizing that more and more people want fresh, local food, it would give us an opportunity to offer others what I so love—a road side stop to get locally/regionally grown produce and connect with the local culture.
I was hopeful we would get at least a small amount of money to build a stand and even if we didn't get it, I was still ready to proceed. Thankfully we were awarded the grant and then came the fun part—having it made. I had an internet picture of a very nifty portable stand that had been custom built, so I printed it off and we headed to Penns Valley to find a builder. We found a suitable Amish built trailer and then a builder. I handed the Amish man the picture I had and asked him if he could build something like it. He thought he could for my budget and after one visit to check on the progress, it rolled into our parking lot in early June.
So now we have a movable farm stand that harkens back to my childhood and brings some local agriculture along Route 322. Embrace the season—visit a produce stand that you happen to drive by during your own summer travels!
Author: Kim Tait
Bio: Co-Founder, Tait Farm Foods and Community Harvest CSA