Posted by Erin McKinney on 08/11, 2011 at 02:29 PM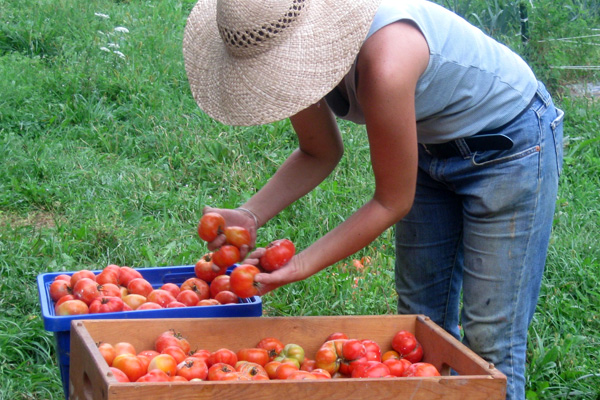 The rain has brought with it cooler temperatures, and I've heard several people expressing their excitement for the upcoming fall. I, however, really enjoy the heat and the beauty of the middle of summer.
The tomatoes are coming on nicely now. Every few days when I walk along the beds, I notice a new variety ripening. The rain has helped the plants set nice sized fruit, but it does lead to a lot of the tomatoes splitting. And once they've split open, they do not last very long.
We've been trying to pick them just as they are beginning to ripen to prevent them from splitting. If they ripen completely on the vine, by the time we (and we do it ever so carefully) harvest them, it can be difficult to get them out of the field and into the barn without splitting.
We also try to pick a nice variety of ripeness so that we can enjoy them throughout the week. Green Tomatoes, for example, are just perfect for battering and frying and serving with a horseradish sour cream. Here's the recipe from Steve Spanelli for you to try at home.
We should also mention that we never refrigerate our tomatoes; we just try to pick them as fresh as possible. Refrigerating them can lessen the flavor of the tomato, and after all this work we wouldn't dare compromise taste!
Pan-Fried Green Tomatoes
Ingredients
2 large green tomatoes
1/4 cup bread crumbs
1 egg salt
1/4 cup milk black pepper
1/2 cup all-purpose flour
peanut oil for frying
1/4 cup cornmeal
Directions
Slice the tomatoes 1/4- to 1/2-inch thick.
Whisk together the egg and milk. Place the flour and a little salt and pepper into another bowl. In a third bowl combine the cornmeal, bread crumbs, salt, and pepper.
Bread the tomatoes by first dusting them with flour, then dipping them into the egg, and finally coating with the bread crumb mixture.
Heat the oil (1-2 cups) in a large sauté pan over medium heat. Cook until the tomatoes are golden brown on both sides. Drain on paper towels.
Share your favorite tomato recipe for a chance to win a $25 gift certificate to Elk Creek Cafe + Aleworks. Submit it now!
Author: Erin McKinney
Bio: Tait Farm Farmer | Community Harvest CSA | Lover of Food and Farming | Author of Field Notes, Community News, and Good Earth e-publication for Tait Farm