Posted by Jordan Reabold on 04/23, 2014 at 12:29 PM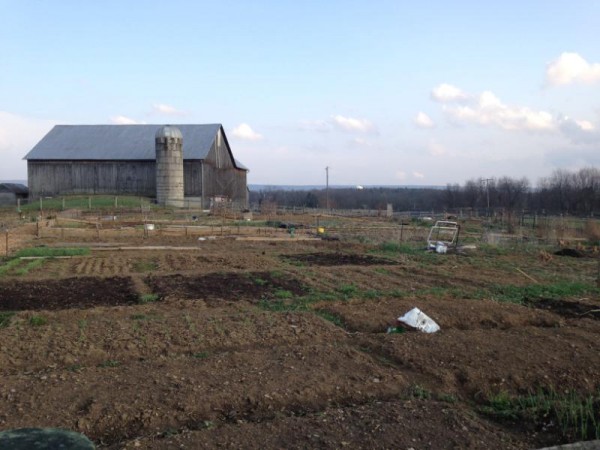 State College is chock full of restaurants, grocery stores, hotels, and countless other businesses, and it's become easy to forget that the busy college town is surrounded by vast, peaceful farmland. Thankfully, the Centre County Farmland Trust (CCFT) was formed to preserve this land, ensuring that there will never come a day where green fields become nothing but blacktop and neon lights. Sarah Walter, executive director of the CCFT, puts it this way: "Once farmland has been converted, it is very difficult if not impossible to bring it back into agricultural production, especially if the land has been covered with asphalt or concrete."
The trust was formed in 1994 as a private non-profit organization to give landowners the opportunity to protect their land, ensuring that it will not undergo any development, despite future owners. The process required to do so is referred to as an "agricultural conservation easement." Thus far, the CCFT has preserved over 1,000 acres belonging to 11 farms. According to the trust's president, Pete Schempf, "All landowners need to do to preserve their land is have the desire to never let it be developed. CCFT will take care of all the rest and set up an agricultural conservation easement at no cost to the land owner."
Clearly, the preservation of farmland is important, but Sarah Walter explains why the CCFT has made it their mission to make it a guarantee. "From a local foods perspective, agricultural land in Centre County contributes to our resilience as a community and our ability to feed ourselves," Sarah said. "From an environmental perspective, agriculture has important value as open space. Many farmers implement soil and water conservation practices that enhance the ecosystem services provided by farmland."
Pete adds, "Nothing tastes better and uses less fossil fuel, wasteful packaging, and expensive middlemen to get to your table than fresh, locally grown produce."
Partnerships play a significant role in the trust. Pete says, "You need partnerships and plenty of help and support for events in order to get your name and mission recognized and well known in the area."
They take part in a number of partnerships with businesses including Tait Farm Foods, Farmland Preservation Artists, Clearwater Conservancy, and a number of local vendors who support the summer solstice event, to be held on June 21 at Tait Farm. "Summer Solstice at Tait Farm has become our signature event in the summer," Pete says.
Because the organization is non-profit, donations are crucial to success. Pete says, "It takes over $5000 to prepare and execute a conservation easement that involves a current survey, appraisal, and baseline documentation."
Not to mention, contributing to the Centre County Farmland Trust has tax incentives. Sarah provides the statistics. "From a municipal tax perspective, a 2001 study of Walker Township by Tim Kelsey at Penn State found that for every $1.00 in tax revenue from agricultural land," she said. "The Township spent $0.01 on providing services to those agricultural land uses. To contrast, for every $1.00 in tax revenue from residential developments, the Township spent $1.08 providing residential services. What this tells us is that it is critical to have a balanced mix of land uses in a municipality in order to fund important community services."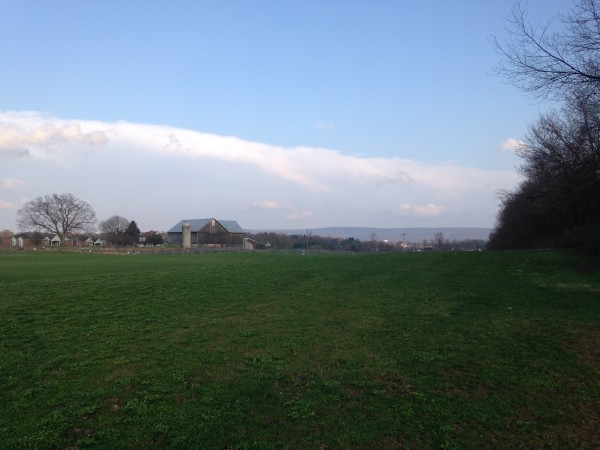 Centre County farm in evening light
The CCFT has plans for the future, and of course, money is required. "In the future we hope to build a war chest of funds so that we can actually offer a monetary incentive to encourage landowners to donate an easement. Developing a substantial fund will also require numerous contributions," says Peter.
Not only will monetary contributions support farms in Centre County, but the state as a whole. According to Sarah, "Centre County agricultural sales accounted for 1.2% of Pennsylvania agricultural sales in 2009. When consumers buy produce from local farms, those dollars tend to remain in the County and continue to support local ventures."
The Centre County Farmland Trust is a commendable organization because it values the resources that so many large-scale companies take for granted. Spend your dollar wisely, and use it to support locally grown food, or better yet, donate it to the CCFT. Years from now, you can drive along the outskirts of town and appreciate the farmland that you helped to preserve.
Author: Jordan Reabold
Bio: Tamaqua, Pennsylvania native - English major at Penn State - Loves cupcakes, coffee, and campfires"