Posted by Christina Barkanic on 02/10, 2011 at 09:43 PM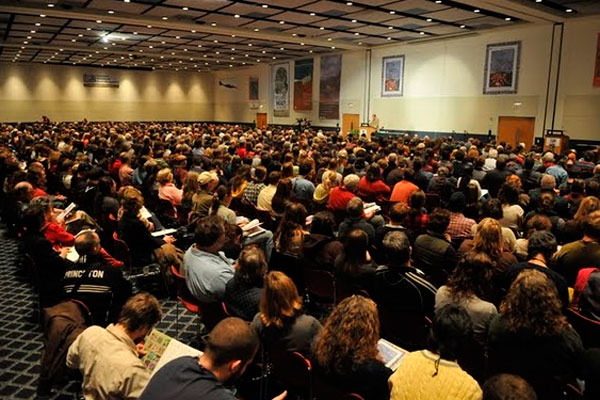 I had the pleasure of attending my first PASA (Pennsylvania Association for Sustainable Agriculture) Conference at the Penn Stater last Friday. Farmers and environmentalists mingled with chefs and artists. Tables displayed everything from cheeses and jams to knitted socks and baby chicks. This place had it all – an energetic community with a common purpose: to farm with our futures in mind.
The PASA Conference is one of the largest sustainable farming conferences in the nation. This 20th annual event attracted more than 2,000 people representing over 30,000 acres of farmland across nearly 30 states. This year's conference theme was "Strength from Our Roots: Claiming Our Food-System Future." The motto celebrates where we have been and where we are headed in the sustainable agriculture movement.
PASA President Kim Seeley kicked off the conference in the packed Presidents Hall. He asked, "Who traveled more than 500 miles to get here today?" About a dozen people stood up. "Who was present at the first PASA Conference 20 years ago?" About a half a dozen people stood up.
Seeley is a dairy farmer who used chemicals and fertilizers on his land until he attended his first PASA conference in 1996. From that day forward, he worked hard to "farm for the future." He believes we need to "put the culture back in agriculture." He said, "In our society, culture has been hijacked by unsustainable corporations." Those corporations essentially chewed up and spit out small farms, he said. Seeley believes our culture can tolerate responsible capitalism, but not corrupt cronyism. "Clean energy captured today is only good if the hills and valleys in Pennsylvania are still green in 50 years," Seely concluded.
Next up was PASA's executive director, Brian Snyder. He started off with a quote by educator and physicist Richard Feynman: "For a successful technology, reality must take precedence over public relations, for Nature cannot be fooled." Snyder said we can't continue building on a bad foundation because we will only continue to crumble. We need to change "at the root," he said.
Snyder believes our main efforts in Pennsylvania need to be focused on the Chesapeake Bay Watershed and the Marcellus Shale reserve. He said, "If we really care about a strong regional food supply, why let corporate gas drilling exploit our farmland?" He concluded by saying we need to "claim our food future, or there may be no future at all."
Finally, keynote speaker Wes Jackson took the stage. Jackson is known as a "godfather of the sustainable agriculture movement." He established one of the first environmental studies programs at California State University, and he founded The Land Institute in Kansas where they work to solve what he calls "the 10,000-year-old problem of agriculture." The problem is the false notion that nature must be disturbed if we want to eat.
Jackson began by saying that we need to become a hybrid of Mother Theresa and Moses. He said that Mother Theresa acted in the "here and now," and Moses acted in the "long term." In other words, we should do what we can while we are here, but also extend our love to those who aren't here yet. Jackson emphasized his point with a startling statistic. He said a 10-year-old today has lived through 25% of the oil ever burned. A 22-year-old has lived through 54% of the oil ever burned. And he has lived through 99% of all the oil ever burned.
"We have a system that wants to keep growing and growing. When really, it needs to stop growing and be healed," Jackson said. This can only be done through renewable resources. Jackson pointed out the paradox of our "efficiency." He said, "The more efficient we get, the more we seem to use." He wants us to practice restraint. Because if we think we can solve our problems through growth, then we are truly mistaken.
Jackson's charismatic address was both educational and motivational. He encouraged everyone present to be part of the "margin" when it comes to sustainable agriculture. Because, after all, the margin is where historical change takes place.
The remainder of the conference featured sessions in support of "farming for the future" from fossil-free farming to saving seeds to the farm bill. If you have not yet been to a PASA Conference, I encourage you to go next year. It's not just for farmers – these topics are relevant to us all.
Author: Christina Barkanic
Bio: Christina is a senior at Penn State majoring in broadcast journalism and minoring in sociology. She has a passion for journalism, the outdoors, good food, and good company. Ideally, she would like to combine all four by producing her own nature meets organic cooking show one day.