Posted by James Eisenstein on 11/14, 2011 at 01:59 PM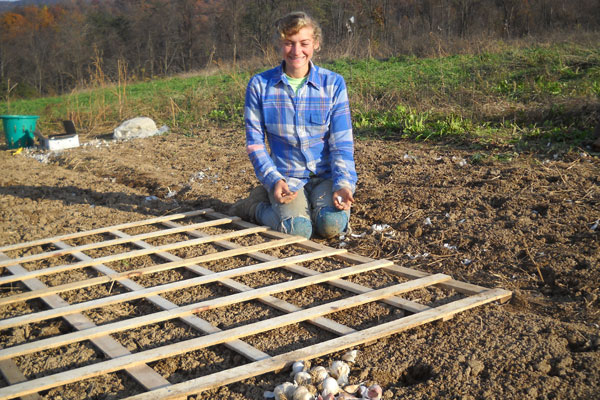 It is now late fall on the farm, and the last vegetables have been harvested. Time to sit by the fire, do our nails, and dream of spring, right? Yes? Shows how much you know about life on an organic vegetable farm.
Now is the time to plant next year's garlic. Notice the nifty planting grid our intrepid intern Hannah is using to make sure the cloves are properly spaced. If you squint and look at the front of the wooden form, you'll discover both some intact garlic bulbs and some individual cloves ready to stick into the soil.
We use a special system for breaking out the individual cloves from the garlic bulbs. It consists of scratching with a fingernail where the stem comes out, peeling off some of the outer skin, muttering, and grunting. Somebody should really invent a machine for this.
We planted about 1,800 bulbs on last Thursday to complete about one-third of the planned crop.
It is satisfying work, bolstered by the knowledge that our CSA (weekly harvest share) and Farmers Market customers will reap all the benefits of garlic breath next year. Just get them into the ground, mulch them if you have time, hoe them regularly next year, and enjoy a big harvest next July.
But do you remember farming's central motto? "It's always something." All we need is good weather (no problem there, as this year's extremely cold, wet spring, July with no rain, and floods for most of the rest of the fall attest). Oh, and find the time to cut off the garlic scapes so the crop doesn't go to seed and produce teensy bulbs. Only then is it time to sit back and watch our bumper crop flourish.
Well, not quite. Here is an excerpt from Field Commander John's last newsletter to his CSA customers: "I spent a very unpleasant evening yesterday learning about the horribly destructive garlic bloat nematode, Canada's latest gift to the U.S. and my least favorite Canadian import after Molson Light. Unknown in this region even two years ago, it is now wreaking havoc all over the place. Every year it seems there is one (or more) new difficulty to deal with, part of the wonderful adventure of discovery that is farming. Between these nematodes and the Mexican bean beetle, I'm beginning to really regret the NAFTA treaty."
Our little bloat nematode friends wiped out a good portion of our garlic crop this year. This fall's planting pretty far away from last year's planting, and we are devising several nifty incantations to keep them away from next year's crop. Wish us luck!
We are not finished harvesting either. Both our high tunnel and greenhouse have hardy greens growing (including kale, bok choi, tat-soi, mache, and even a little spinach), and some hardy plants are still alive and growing in our fields under row cover. Spare time is being spent on writing an ever expanding "to do" list.
Author: James Eisenstein
Bio: Unpaid Field Hand at Jade Family Farm | Former Penn State Professor