Posted by LacCreta Holland on 07/03, 2015 at 01:36 PM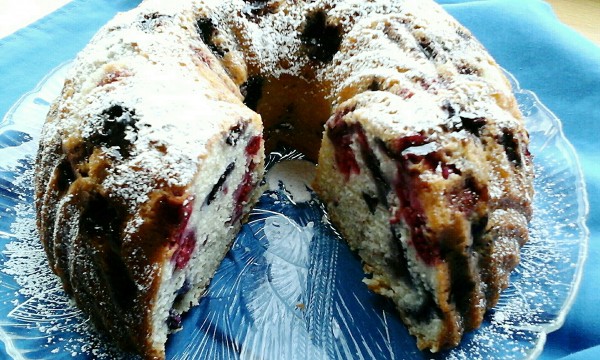 The berries have arrived in Happy Valley!
We have lots of raspberries on our bushes in the backyard; the June rain has helped them grow as large as we have ever seen! The blueberries arrived from the Kiwanis Club last Tuesday, so now I have 30 pounds of blueberries to find wonderful recipes for. Yes, some of them have been eaten out of hand, as well as freezing many for winter oatmeal.
But I love to try new blueberry recipes.
This Double Berry Bundt Cake is an adaptation from a recipe I just received from smittenkitchen.com and it is SO GOOD! Easy to make and very moist. Your family and holiday guests will rave about this cake that you can eat for breakfast/brunch/dessert. It's a red, white and blue treat.
I am so grateful to be a citizen of the United States of America. I will be eating cake to celebrate!
Happy Fourth of July!!!
Double Berry Bundt Cake
Ingredients:
- 2 and 1/2 cups plus 2 Tablespoons flour
- 2 teaspoons baking powder
- 1 teaspoon salt
- 1 cup unsalted butter, at room temperature
- 1 and 3/4 cup sugar
- Zest of one lemon
- 3 eggs
- 1/2 teaspoon vanilla
- 3/4 cup buttermilk*
- 3 cups mixed strawberries and blueberries
Steps
- Preheat oven to 350 degrees.
- Generously grease a 10-cup Bundt pan, with with butter or a nonstick spray. Set aside.
- In a medium bowl, whisk 2 and 1/2 cups flour (leaving the 2 Tablespoons for later), baking powder and salt together; set aside.
- In a mixing bowl, cream together the butter, sugar and lemon zest until light and fluffy, about 3 to 5 minutes—please mix that long so the cake will be moist and light.
- With mixer on low speed, add the eggs, one at a time. Scrape down the bowl with each egg added. Beat in vanilla briefly.
- Add 1/3 flour mixture, followed by half the buttermilk, another 1/3 of the flour mixture, the rest of the buttermilk and then the remaining flour mixture. Scrape down the bowl from time to time to incorporate everything
- Toss the berries with the remaining 2 Tablespoons of flour and fold them GENTLY by hand into the cake batter. This batter will be thick.
- Spread the cake batter into the Bundt pan. Bake for 60-65 minutes or until a toothpick comes out clean. Because the cake is so tall, I use a wooden skewer to test the cake, so that it goes all the way to the bottom of the cake. Note: At 60 minutes my cake was still very "wet" and not done. But 5 minutes later, it was done!! That surprised me so watch the cake and don't over bake it.
- Remove the cake from the oven and let it cool on a cooling rack for 30 minutes. Remove it from the pan and let it cool completely.
- Dust the cake with powdered sugar and enjoy!
*If you don't have buttermilk on hand, make it yourself. Put 1 teaspoon white vinegar into a 3/4 cup measuring cup. Add milk to fill it up. Stir with a spoon and you will see the milk thicken into buttermilk.
Author: LacCreta Holland
Bio: LaCreta Holland—views on life and food change when you have lived in Italy--believes that good smells from the kitchen make people happy---loves to teach people to cook through my business Happy Valley Learn to Cook