Posted by Kristin Camplese on 12/15, 2011 at 07:29 PM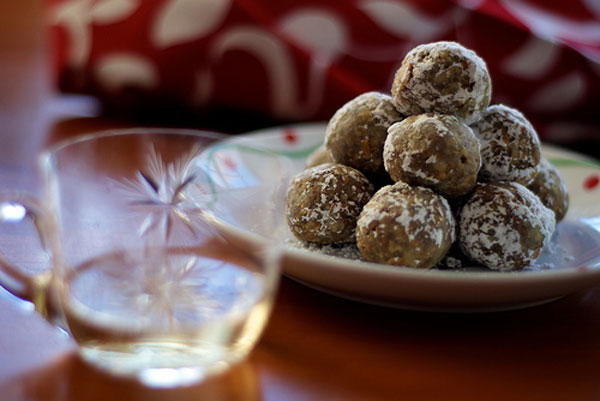 'Tis the season to indulge! Enjoy favorite holiday cookies from Local Food Journey contributors this week and next. And feel free to share your own recipes in the comment section below.
First up: Rum Balls from Kristin Camplese of Cuizoo.
Makes about 3 dozen.
Ingredients
2 cups vanilla wafer crumbs, from a 9 oz. box (I do this in the food processor)
2 cups toasted pumpkin seeds, finely chopped (or other nuts … I do this in the processor too)
4 tsp light corn syrup
Pinch of salt
2 generous shot glasses of good quality rum (I used a pure cane sugar rum)
1 1/2 cups of powdered sugar
Directions
Combine vanilla wafer crumbs, chopped pumpkin seeds, corn syrup, and salt. Stir in rum. If mixture is too dry, you may need a bit more rum. It should be clumpy, so you can roll into balls.
Put powdered sugar on a plate.
Taking about 1 heaping teaspoon of the rum ball mixture, roll into a ball using the palms of your hands. Drop into powdered sugar and coat well. Place onto a parchment lined baking sheet and repeat with remaining rum ball mixture. When finished, place rum balls in a ziploc bag and store in the refrigerator. They are best if made up ahead and allowed to "ripen" for a few days (my grandmother's words).
Author: Kristin Camplese
Bio: Author of Cuizoo.com | Writer | Photographer | Wife and Mother of 2