Posted by Christina and Erin on 03/04, 2011 at 09:31 PM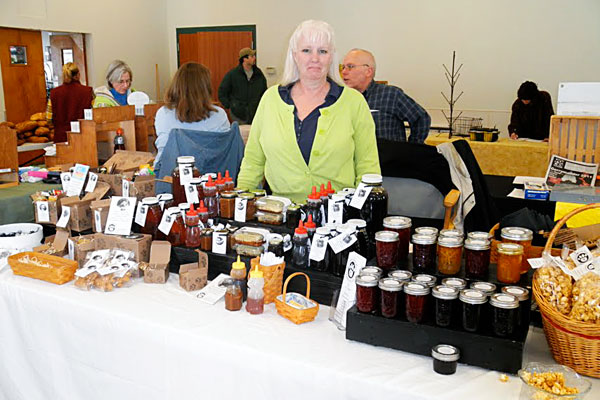 Jacki Mack and her husband, Hal, started their business, Dawg Gone Bees, after Hal's grandfather passed away two years ago. They adopted his passion for honey making and moved equipment from his home into theirs.
Jacki always wanted to launch a family-owned business, and that's just what they did. The Macks even included their four-legged friends in their venture. Each product is named for one of their dogs: Penny, Nebula, FlipFlop, MJ, and Lucky. And they donate a portion of their profits to the SPCA!
(Continue reading for a Q&A with Jacki Mack and to see photos of their products.)
Where did the name "Dawg Gone Bees" come from?
After one day returning home from the beehives, our chocolate lab, Penny, looked lonely. We thought to ourselves, she's probably thinking "Dawg Gone Bees."
What flavor and varieties of honey do you offer?
We have two flavors. The amber colored honey is the Spring Wildflower. It has a more delicate taste, and it's harvested in July. The darker colored honey is the Fall Wildflower, which is harvested in October.
Which honey is more popular?
The Fall Wildflower is the most popular; it comes from Japanese Knotweed or "Bamboo" plants.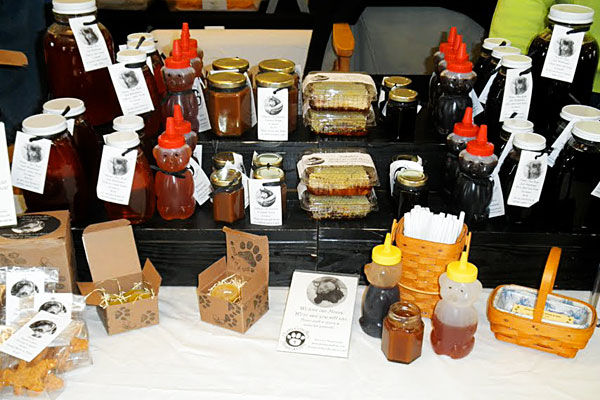 Where do you get your honey?
We have hives on friends' farms along the Susquehanna River from Lock Haven to Williamsport.
Besides honey, what other products do you have?
We have cut comb, gift boxes, beeswax candles, chap stick, dog treats made with honey and peanut butter, jams, and honey crackle popcorn.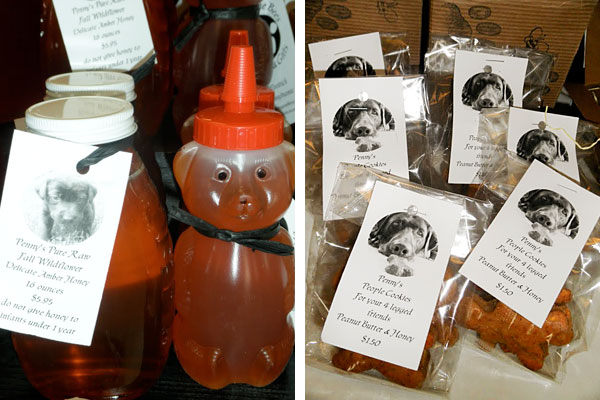 What's the process for making honey?
We use an extractor to spin out the honey. Dawg Gone Bees only sells raw honey that has never been heated. To tell if the honey you are buying has been heated, hold the jar up to the light. If the honey is clear, it has been heated. Heating honey beyond 115 degrees destroys its antioxidants, enzymes, vitamins, and other important attributes. It can also cause the honey to loose its natural flavor. After we spin out the raw honey, we run it through a strainer and bottle it. It's as simple as that!
Besides your website, where else do sell your products?
We sell our products at the Boalsburg Farmers market every Tuesday and also at markets in State College, the Jersey Shore, and Lock Haven.
What are your goals for Dawg Gone Bees?
We're hoping to grow as a business. This started two years ago as a hobby, but now I'm hoping to expand even more.
The honeybee population is becoming extinct, what are some ways we can protect the bees?
Buy local honey!
Author: Christina and Erin
Bio: Christina Barkanic is a senior at Penn State majoring in broadcast journalism and minoring in sociology. She has a passion for journalism, the outdoors, good food, and good company. Ideally, she would like to combine all four by producing her own nature meets organic cooking show one day. Erin Donahue is a senior at Penn State majoring in broadcast journalism with a minor in sociology. She's excited to share her passion for food, writing, and multimedia.