Posted by LacCreta Holland on 04/12, 2017 at 12:51 PM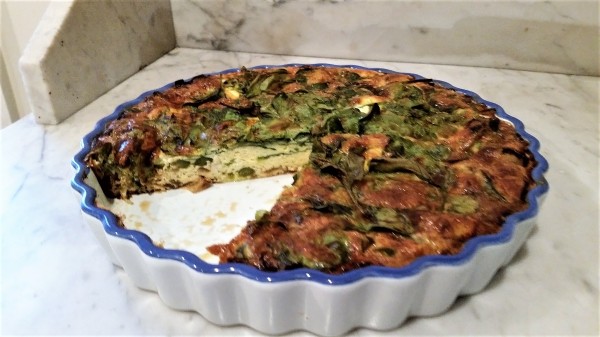 Oh winter, you bring such comforting foods; soups, stews, hot chocolate to keep us warm! But we have waited patiently and now the springtime is here and we can start to eat like it!
Asparagus, onions, spinach. Such delicate vegetables. Soon we will start to see these spring vegetables at the farmers markets. So many people don't know what to do with these veggies. Steam or boil them is usually the answer I hear from my cooking class students at Happy Valley Learn to Cook. But, to really get all the flavor out of these delights, feature them in a main course like this Crustless Spring Quiche. Added to ingredients you probably already have in your refrigerator, this is an easy recipe that anyone can make.
Crustless Spring Quiche
(adapted from thekitchn.com)
Ingredients
- 1 Tablespoon of butter or olive oil or a combination of both
- 2 medium onions, sliced
- 8 stalks fresh asparagus, cleaned and chopped into pieces
- 2 handfuls of baby spinach, washed
- Salt and Pepper
- 8 eggs
- 1 cup milk
- 1 cup grated Swiss or cheddar cheese (Guyere is also good!)
Steps
- Preheat the oven to 400 degrees.
- Melt the butter/olive oil in a saute or cast iron pan over medium heat and add the onions. Cook them and let them slowly caramelize (golden brown and sweet, about 10 - 20 minutes). Sprinkle with a bit of salt and pepper.
- Prepare a quiche pan or pie plate by smearing olive oil on the bottom and sides of the pan.
- Spread the onions evenly across the bottom of the quiche pan.
- In the same pan you used for the onions, lightly saute the asparagus pieces, just so they become heated and maybe a bit tender. Put them on top of the onions. Place the handfuls of spinach on top of the onions and asparagus.
- In a bowl, use a fork to beat the eggs lightly. Add the milk and cheese and stir, season with salt and pepper. Pour the custard over the vegetables and press down the spinach with a fork if it is not completely covered with the egg mixture.
- Bake the quiche for 40 minutes, or until the surface turns brown all the way across. It will then be fully cooked. Let the quiche cool for about 20 minutes. Serve warm or at room temperature.
Author: LacCreta Holland
Bio: LaCreta Holland—views on life and food change when you have lived in Italy--believes that good smells from the kitchen make people happy---loves to teach people to cook through my business Happy Valley Learn to Cook