Posted by Jessica Illuzzi on 11/16, 2012 at 01:51 AM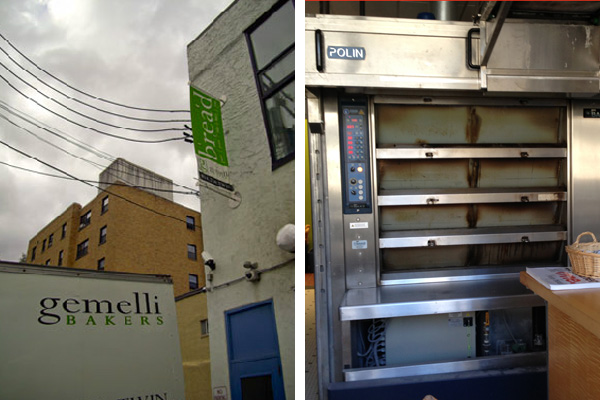 The smell of baking bread and the clatter of bakers working in the kitchen creep up to the still empty, sunlit front room of the Gemelli Bakers, where owner Anthony Sapia drinks his morning coffee on a wooden stool.
"I say I've been retired since I was 26 because I wake up with the same question as a retired person. What am I going to do today? If I want to watch birds I watch birds, if I want to drink 10 cups of coffee I drink 10 cups of coffee," Sapia said, lifting his cup.
To him, owning his own businesses is a great, even relaxing, way to live life. He said the best part is "getting to do what I always want to do, every day."
Sapia currently owns Gemelli Bakers, the café next door called Nola's Joint, and Fat Jack's Bar-B-Que Shack. His wife, Karen, owns Lotus Center Yoga in the basement of the bakery.
"My wife and I started out with those four walls over there, and we expanded in 1996 and over the course of 13 years it expanded to incorporate different ideas and venues," he said.
Sapia sells Gemelli Bakers bread in the bakery on McAllister Alley just off of Calder Way. He also sells to local restaurants and has recently branched out by selling Gemelli goods at the Boalsburg Farmers Market.
Sapia has become involved in the Boalsburg Farmers Market. He has helped to organize events like the Plow to Plate Harvest which raised money for the farmers market.
His other ventures over the years included bars and night clubs in State College including Tony's Big Easy and Lulu's Night Spot and Anthony's Restaurant. He was forced to sell after his liquor licenses were put on non-renewal.
The non-renewal was issued because of a stabbing outside of Lulu's. Sapia said the bar had no other incidents or history of serving minors or overly intoxicated customers, and he fought the non-renewal all the way to the Pennsylvania Supreme Court, but in the end was told he had 24 hours to sell or the liquor control board would not renew the license.
Selling these businesses gave way to new opportunities for Sapia. He had been baking for his restaurant since 2000 and has been selling the bread to local restaurants since before he sold his businesses.
Sapia owned the building that Nola's Joint and Gemelli Bakers are located. When the bottle shop next door closed he bought it and knocked down a wall to expand for the bakery. The bottle shop became the front room of the bakery. The bakery opened in 2007.
It sells a variety of breads along with deserts, including tarts pies cakes, cookies, and traditional Italian Biscotti.
Today's economy is different than it has been in the past. Sapia said that it requires more work now than it would have in a thriving economy.
"There were days and times when you could just sit back and let business come in back in the 50s, or the 90s." He said business isn't that easy anymore.
He said that his bakery is "on the rise" and, while some years are better than others, the secret to success is in how you treat your business. "If you don't treat your business well it's not going to treat you well."
He said customers and employees are both important to success. "Guests and customers are going to go where they are treated well and the owner and the management and the employees treat the business with respect. "
Many of his employees are students. He said that it is sometimes difficult to find people who want to work certain weekends. "You have to plan for it and find those that do want to work on Homecoming or Ohio state weekend. It's a little easier with the baking business because we don't mess with their night life," Sapia said, laughing.
Sapia said that what makes a business work in State College is the same as it would be anywhere in the world. He said it is "the same as if we were in Italy [or anywhere], hard work and loving what you do. If you don't do those two things—doing what you love and loving what you do—then close the doors turn out the lights go do something else."
Author: Jessica Illuzzi
Bio: Jessica is a Penn State journalism student. She has worked at WPSU on the Our Town series. She loves food and what State College has to offer.