Posted by Cara McShane on 07/20, 2012 at 10:59 AM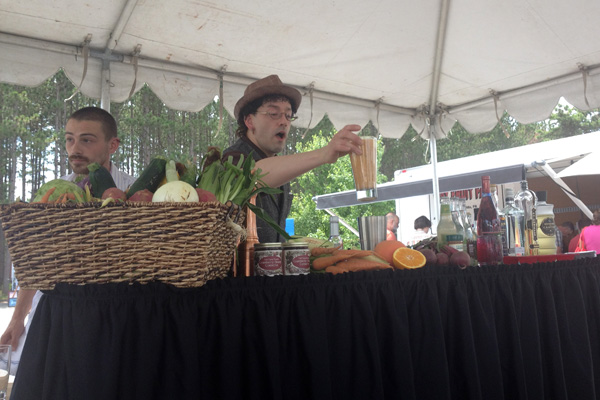 Sc'Eric Horner is a local bartender and "foodie." He moved to State College in 1991 to attend classes at Penn State. Since graduating from the College of Communications in 1994, he has worked at many area establishments including Q's Café / Café SerendipiTea at Encore Books, Gopper's Pizza, Zola New World Bistro, and Webster's Bookstore Café. He is currently the beverage manager at Fuji & Jade Garden restaurant on Westerly Parkway in State College. Sc'Eric would someday like to own his own bar and late-night coffee and tea shop.
Last week at the Learning Kitchen event, Sc'Eric shared recipes for: Sichuan Carrot Smoothie; Beetnik's Tonic; Bee Kind Cranberry Sangria; Frozen Punch Mould. Continue reading to see the recipes!
Sichuan Carrot Smoothie
Tall glass, serves 4.
8.00-oz Carrot Juice, freshly extracted (-or- substitute BoltHouse Farm brand)
8.00-oz Raw Milk (-or- substitute organic Yoghurt)
4.00-oz Smith & Cross Jamaican over-proof rum (-or- 1.5-oz Kraken black spiced rum)
4.00-oz Domaine de Canton ginger liqueur (-or- fresh Ginger + Maple syrup, dark)
4.00-oz Peanut Butter (Wegmans, chunky)
1.00-Tsp Cayenne (-or- Chipotle pepper), ground
Dash Peppercorn, freshly cracked
Dash Sichuan Peppercorn, freshly ground (-or- substitute Jamaican all-spice)
Dash Chinese 5-spice
Pinch Salt, to taste
Pulse in a blender with ice until fully blended. No blender? Substitute creamy peanut butter and shake vigorously—without ice.
Pour over hand-cracked ice. Top with a dollop of sour cream + freshly ground nutmeg (optional).
*Note: This recipe was inspired by local soup chef Jeffrey "Captain Bligh" Brendle. Jeff used to prepare soups for us at Café SerendipiTea at Encore Books… and now helps keep the soup flowing at Webster's Bookstore Café on E.Beaver Avenue (at Humes Alley). His Szechuan Carrot Soup is to-die-for!
Beetnik's Tonic
Makes 12-oz. glass + ice.
1.50-oz Beet-infused Gin (2x mid-sized beets, sliced… steeped for 3+ days in 16-oz mason jar filled with gin)
1.00-oz Tait Farm Raspberry shrub (-or- substitute apple-cider vinegar)
0.75-oz Kümmel (caraway liqueur – optional)
Dash Salt
3.00-oz Fever Tree Bitter Lemon (aka Lemon Tonic, -or- substitute your favorite tonic water)
Garnish w/ a Gin-pickled Beet
*Note: This recipe is a riff on Eric Ho's world-champion recipe from Tanqueray's 2011 Best T&T contest.
Bee Kind Cranberry Sangria
Serve in punch bowl or two large pitchers. Serves 10 or more people.
50.0-oz Bee Kind Cranberry wine (2 x 750-ml bottles) (-or- Cranberry wine + Pinot grigio, 1 bottle each -or- substitute Sauvignon blanc)
12.0-oz New Amsterdam (nouveau orange gin, 375-ml) (-or- Svedka Clementine orange vodka, 375-ml)
5.00-oz Grapefruit Juice
1.00 Pink Grapefruit – skin removed, sectioned, diced
1.00 Orange – sliced
Seasonal Fruit (honeydew melon, strawberries)
3.00-oz Domaine de Canton ginger liqueur
3.00-oz St.Germain elderflower liqueur
3.00-oz Fresh Lime juice (about 2 or 3 limes)
25.0-oz Club Soda (about 1-litre) (-or- Sparkling wine, about 1 bottle)
Frozen Punch Mould
Grapefruit juice (or orange juice)
2 jars Tait Farm Cranberry-Orange conserves
Blend juice and conserves. Freeze into silicon moulds. Heart-shaped muffin moulds work great for pitchers. For punch bowl, use a traditional ring mould. Remember: the larger the surface area, the slower the cubes will melt, which means your drink stays cold longer!
Author: Cara McShane
Bio: Penn State Journalism Student | Foodie & Health Enthusiast | Lover of Cooking, Music, and the Outdoors (especially when combined!)