Posted by Emily Wiley on 07/21, 2011 at 04:14 PM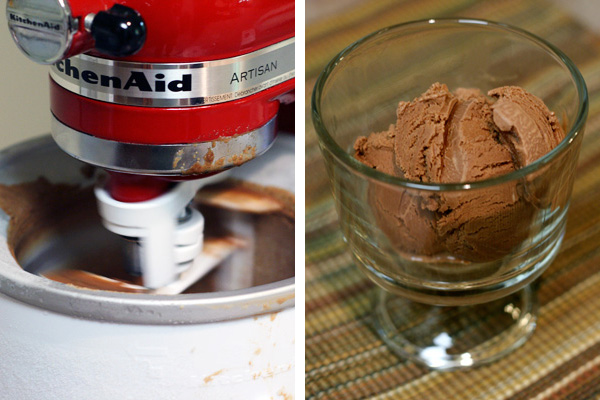 With temperatures predicted to reach record highs today and tomorrow, what better way to manage the heat than with a bowl of homemade ice cream? It is National Ice Cream Month, after all.
This recipe comes from The Perfect Scoop by David Lebovitz. The ingredients list is short, though you will need an ice cream maker. I recommend either the KitchenAid attachment or the Cuisinart.
Also, you should be warned that this ice cream is dangerously decadent (and addictive). Small scoops are recommended!
Ingredients
2 cups half-and-half
1/4 cup unsweetened Dutch-process cocoa powder
1/2 cup sugar
Pinch of salt
1/2 cup smooth peanut butter
Directions
Whisk together half-and-half, cocoa powder, sugar, and salt in a large saucepan. Heat mixture, whisking frequently, until it comes to a full, rolling boil (it will start to foam up).
Remove from heat and whisk in peanut butter. Stir until thoroughly blended.
Chill mixture completely, then churn in your ice cream maker according to manufacturer's instructions.
Makes 1 quart. Source: The Perfect Scoop by David Lebovitz.
Purchase The Perfect Scoop. Support WPSU
WPSU is now a member of Amazon's Associate program. When you make purchases from Amazon by following links from our website, WPSU will receive a portion of the sale with NO extra cost to you.

Buy The Perfect Scoop.
-or- Click here to support WPSU through any purchase from Amazon.com
Author: Emily Wiley
Bio: WPSU Multimedia Producer | Wife and Mother | Lover of Food and Photography | One-Half of The Culinary Couple