Posted by Kim Tait on 09/19, 2011 at 02:16 PM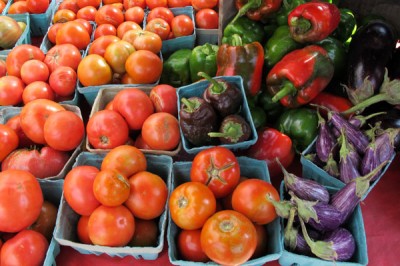 The unusually wet and cool weather of mid-September must be a prelude to a fabulous Indian Summer coming our way. Nature has its signals in every season, and the fall is no exception. The dizzying activity of insects and migrating birds, the prolific blooming of goldenrod and asters, and the breathtaking color transformation of the native Sumac all confirm the change that is in the air. And even though the tomatoes are slowly slipping away, the abundant greens, hearty squashes, pears and more, are ready to make their debut and step in where the others are leaving off. Oh, how lucky we are!
These chillier nights often make us crave comfort food like good old fashioned vegetable soup. With simple, inexpensive ingredients this soup recipe from farmer Steve Spanelli is very easy to put together.
Vegetable Soup
3 Tbsp olive oil
2 cups onions, diced
1 cup celery, diced
5 cloves garlic, minced
2 cups carrots, cut into half-moons
2 cups potatoes, diced
2 cups fresh green beans, cut into bite-sized pieces
2 qts vegetable broth
4 cups tomatoes, peeled and seeded
3 ears corn, kernels removed
fresh parsley, chopped
salt and pepper
Heat olive oil in a large stockpot over medium heat. Add onions, celery, and garlic; lightly sauté until they begin to soften. Add carrots, potatoes, and green beans; cook for 5 more minutes, stirring occasionally. Add stock, increase heat to high, and bring to a simmer. Add tomatoes and corn kernels. Reduce heat to low, cover, and cook until the vegetables are tender, about 30 minutes. Remove from heat; add parsley, salt, and pepper.
Author: Kim Tait
Bio: Co-Founder, Tait Farm Foods and Community Harvest CSA