Posted by Emily Wiley on 11/09, 2010 at 03:17 PM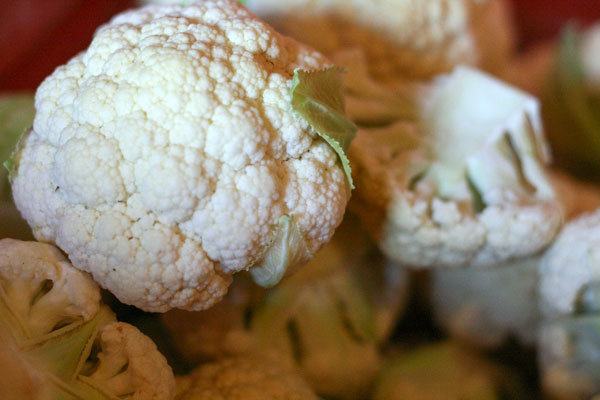 Fall vegetables like broccoli, cabbage, mustard greens, and cauliflower are here for just a few more weeks, so take advantage of them now!
Remember to thoroughly wash your market cauliflower before using it. Dissolve 1/4 cup salt in warm water and add cut cauliflower. Fill the rest of the bowl with cold water, and soak for 1/2 hour. Rinse thoroughly and several times, and then enjoy this tasty Cajun hash recipe from Tait Farm.
Ingredients
2 tablespoons Tait Farm olive and basil oil
1 small onion, diced
1 celery stalk, diced
1 green bell pepper, diced
3 cloves garlic, minced
2 cups cauliflower, chopped small
1 cup potatoes, diced small
chili powder, thyme, and cayenne pepper
salt and pepper
fresh parsley, chopped
Directions
Heat the oil in a large sauté pan over medium-high heat. Add the onion, celery, and bell pepper; sauté. Add the garlic and cook for a couple more minutes. Add the cauliflower, potatoes and spices; sauté. Add 1/4 cup water to steam lightly and toss well. Cook until vegetables are tender and begin to brown slightly. Finish with the parsley.
Author: Emily Wiley
Bio: WPSU Multimedia Producer | Wife and Mother | Lover of Food and Photography | One-Half of The Culinary Couple