Posted by Kristin Camplese on 10/20, 2011 at 09:59 AM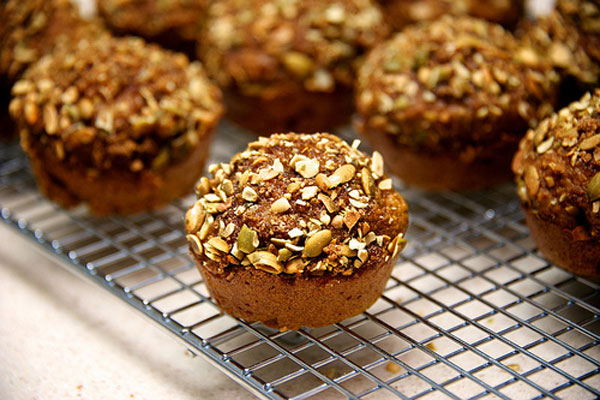 With two hungry children, I am always trying to find healthful snacks that the kids perceive to be treats. A piece of fruit may be healthy, but every once in a while kids (and grown-ups alike) crave something more substantial. In our house, anything freshly baked is usually a winner. This recipe qualifies as both delicious and healthy—with whole wheat flour, butternut squash puree, fresh apples, and not too much sugar. It's your choice whether you call it breakfast, a snack, or dessert.
Makes about 18 full size muffins
Muffins:
1 1/2 cups of cooked butternut squash (I like to halve mine, scoop out seeds, and slow roast for about an hour at 325 degrees Fahrenheit)
4 eggs
1/4 cup of dark brown sugar (up to 3/4 cup for a sweeter muffin)
1/3 cup applesauce
6 T vegetable oil
1 t salt
1 t baking soda
2 t baking powder
2 t cinnamon
2 cups whole wheat pastry flour
1 medium apple, peeled, seeded, and finely chopped
Streusel:
1/4 cup dark brown sugar (can use more here too if you like)
1 t cinnamon
1/3 cup chopped and toasted pumpkin seeds
Directions
1. Preheat oven to 350 degrees Fahrenheit.
2. In a large bowl, mix wet ingredients by whisking together cooked squash, eggs, dark brown sugar, applesauce, and vegetable oil.
3. In a medium bowl, mix dry ingredients by combining salt, baking soda, baking powder, cinnamon, and whole wheat pastry flour.
4. Add dry ingredients to wet ingredients and whisk until just combined. Stir in chopped apples. Spoon into greased muffin tins about 2/3 of the way full. (You can use cupcake papers if you like.)
5. Combine streusel ingredients (brown sugar, cinnamon, and pumpkin seeds) and sprinkle a nice spoonful over top of each muffin before baking.
6. Bake muffins for about 15 minutes until just done and a tester comes out basically clean. Let cool a few minutes in tins and then remove muffins to a cooling rack. (I had to use a knife to loosen them before removing.)
Author: Kristin Camplese
Bio: Author of Cuizoo.com | Writer | Photographer | Wife and Mother of 2