Posted by Kim Tait on 10/17, 2011 at 05:15 PM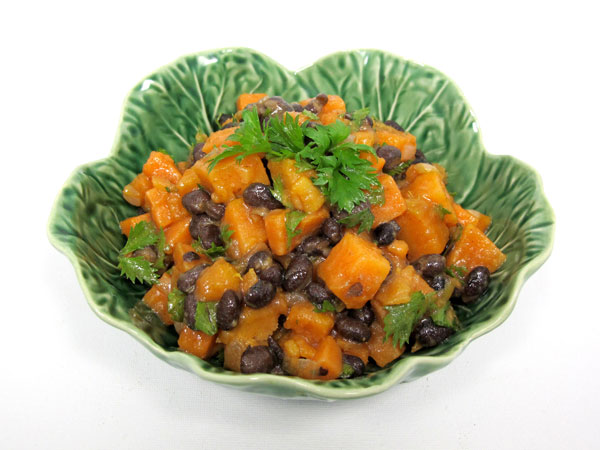 I love fall on the farm. It is the season of bold flavors and stunning natural beauty. The changing leaves are slowing winding their way up Tussey Mountain, creating a tapestry of subtle color. The fields abound with beautiful fall greens and root crops, still soaking up as much sun as they can before harvest. And after months of ripening in the fields (or drowning), the winter squash have been harvested. Our attention will now turn to getting the fields into cover crops for the long winter's rest. And all the while, I will delight in the flavor of my first butternut squash soup, as well as the site of colorful, funky pumpkins and gourds that bring fall blessings to my home.
We are pleased to share Cindy Tait Law's recipe for this spicy sweet potato and black bean salad is just the thing for your next Tailgate or Halloween party. We love the combination of black beans and sweet potatoes with our Cherry Chipotle Sauce; and visually, it's very in keeping with the Season!
Spicy Autumn Salad
1½ lbs. sweet potatoes
1½ cups cooked black beans, rinsed and drained (1 can)
½ cup chopped sweet onion
3 Tbs olive oil, divided
½ cup Tait Farm Cherry Chipotle Sauce (or more to taste)
salt and pepper to taste
½ cup cilantro
Bake the sweet potatoes at 350 degrees until just tender when pierced with a paring knife. (about 30-45 minutes, depending on the size of the sweet potatoes. ) When cool, peel and dice them into ½ inch cubes. Saute the onions in 1 Tbs of the oil until they starts to caramelize. Combine the sweet potatoes, black beans and saute'd onions in a bowl. Whisk together the remaining oil and the Chipotle Sauce and pour over the salad. Chop the cilantro and combine with the salad. Season to taste. Serves 6.
Author: Kim Tait
Bio: Co-Founder, Tait Farm Foods and Community Harvest CSA