Posted by James Eisenstein on 09/09, 2013 at 12:18 PM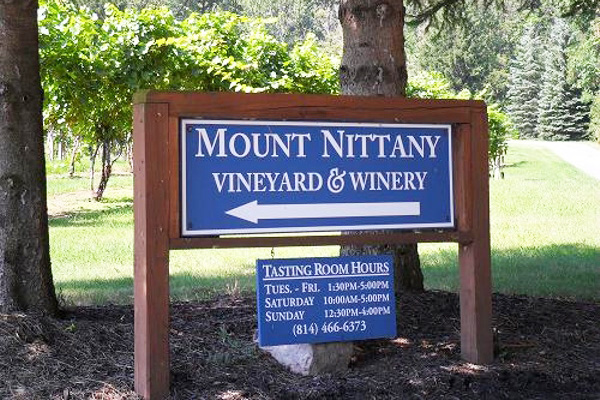 Fall in Central Pennsylvania brings the bounty, beauty, and variety of the fall harvest. To celebrate the harvest, the Boalsburg Farmers Market in cooperation with the Mount Nittany Winery is sponsoring its "Plow to Plate Harvest Dinner" featuring the vegetables and fruits that ripen as the last of summer's crops are replaced by those that thrive in the fall. Some of the best chefs in Happy Valley will prepare soups and side dishes from both summer crops, including eggplant, peppers, okra, garlic, onions, melons, and from fall favorites including acorn and butternut squash, pumpkins, kale, spinach, other fall greens, kohlrabi, and apples. They will also offer main dishes using pasture-raised, sustainably produced local meat, and deserts.
The dinner will be held at the beautiful Mt. Nittany Winery on Wednesday, September 11, and will gather a number of our area's best chefs, including Jamie Steffen (Nittany Lion Inn), Charles Niedemyer (Nola's Joint), Ben Stanley (El Gringo Tacos), Bob Ricketts (Fasta & Co), Nathan Brungarten (Mount Nittany Inn), Paul Kendeffy (Gamble Mill Restaurant and Brewery), Harrison Schailey (Harrisons), and Andy Rose (Elk Creek Café) to create a variety of dishes from ingredients from the fall harvest of Boalsburg Farmers Market vendors.
Tickets ($35 per adult, kids under 12 free) are available at the Boalsburg Farmers Market (Tuesdays, 2:00 to 6:00 p.m. at the Pennsylvania Military Museum in Boalsburg), at Webster's Café, 133 E. Beaver Ave. in State College, and at the Tait Farm Store on Route 322 East of Boalsburg. Vineyard and Winery tours begin at 5:00 p.m., with dinner starting at 6:00 p.m. The Winery is located at 300 Houser Road, off of Brush Valley Road.
In addition to tours of the vineyard and winery, guests will be able to talk both with the chefs and some of the Boalsburg Farmers Market farmers throughout the evening about their farms and the joys and challenges of growing for the local community. Guests will receive a complimentary glass of Mt. Nittany wine. Music will be provided by "Richard and Papa", Richard Sleigh and Gary Brubaker, two long time State College musicians. They will team up for a duo of guitars, harmonica, violin and singing of tunes from many eras and genres, encouraging all to join in the singing and fun. Market Co-Manager and Owner of Gemelli Bakers Tony Sapia said, "This will be a celebration of local food and wine, a tribute to the quality and variety of the local food available at the Boalsburg Farmers Market, and an opportunity to meet some of our best local chefs."
Part of the proceeds from the dinner will be given to support school gardens in the State College Area School District and the Boalsburg Market's "Learning Kitchen" cooking demonstrations in 2014.
Author: James Eisenstein
Bio: Unpaid Field Hand at Jade Family Farm | Former Penn State Professor