Posted by Emily Wiley on 07/29, 2010 at 12:18 AM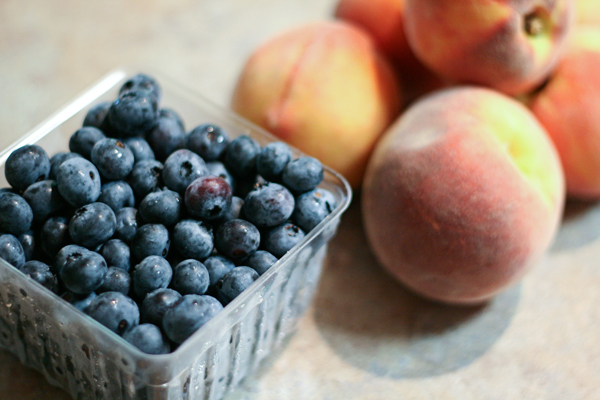 Some people love summer for its long, leisurely days. I love it for its abundance of local fruit.
You can go to any farmers market in Pennsylvania in late July and find beautiful displays of boxed berries: blueberries, blackberries, raspberries, cherries. Peaches are also peaking, and apples are on their way in.
Strawberries may be my favorite fruit, but blueberries are a close second. My husband and I go through pints of blueberries like we go through bags of coffee beans. We add them to smoothies and salads and waffles, and we eat them plain by the handful.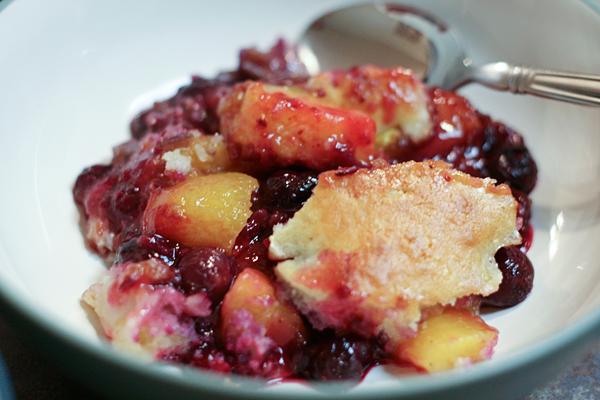 But, so far this summer, my favorite use of the blueberry is paired with peaches in a cobbler. It's best served warm and topped with vanilla bean ice cream.
What's your favorite summer fruit?
Ingredients
1/2 cup packed brown sugar
3 tablespoons cornstarch
1/4 teaspoon ground nutmeg
1/4 cup sherry (which we didn't have, so we used red wine)
5 cups sliced peeled peaches
1 cup blueberries
1/2 cup chopped pecans
1 tablespoon butter
1 tablespoon lemon juice
Ingredients for Topping
1 cup all-purpose flour
1/3 cup sugar
1 1/2 teaspoons baking powder
Dash of salt
1/4 cup cold butter
1/4 cup milk
1 egg, lightly beaten
Directions
In a large saucepan, combine the brown sugar, cornstarch, and nutmeg. Stir in sherry or wine until blended. Bring to a boil; cook and stir for 1-2 minutes or until thickened. Add the peaches, blueberries, pecans, butter, and lemon juice. Pour into a greased shallow 2-quart baking dish.
For topping, in a small bowl, combine flour, sugar, baking powder, and salt. Cut in butter until coarse crumbs form. Stir in milk and egg. Spoon over fruit mixture.
Bake at 400°F for 25-30 minutes or until bubbly and a toothpick inserted in the topping comes out clean. Serve warm (with ice cream).
(Adapted from allrecipes.com)
Author: Emily Wiley
Bio: WPSU Multimedia Producer | Wife and Mother | Lover of Food and Photography | One-Half of The Culinary Couple