Posted by Kristin Camplese on 07/24, 2012 at 05:07 PM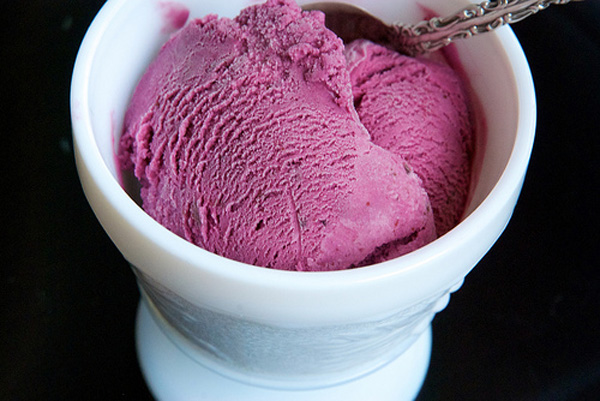 Celebrate National Ice Cream Month and July''s sweet berries with this easy blueberry ice cream!
I tweaked two different recipes/styles and the resulting ice cream is very easy and delicious. The first recipe is from Epicurious and it is a quick and easy method that doesn't require a custard base. The second is from Cooks Illustrated, where they discuss how to prevent your ice cream from being too "icy."
The basic idea is to substitute some corn syrup for part of the sugar and then make sure the base is super chilled before churning. If you don't have time to give it a good chilling (4-6 hours or ideally overnight), they have a great method where you take part of the base and put it in a separate container in the freezer (while the rest chills in the fridge). When you are ready to make the ice cream, take the frozen part of the base and mix it in the refrigerated base — it acts like a big ice cube of ice cream. Stir it in to melt into the base and then it will be cold enough to put in the ice cream maker.
The resulting ice cream is rich and creamy, but not at all icy (which can happen easily with fruit-based ice creams). You'll notice it's not exactly low fat, but it is also not the kind of ice cream you are going to eat a big bowl of. A small scoop of this and you'd be entirely satisfied. It highlights the perfectly simple flavors of summer that require absolutely no lily gilding.
(I'm sure it would also be good with other berries, but I'd probably strain the base if using raspberries of blackberries to get the seeds out.)
Yields about 1 quart.
Ingredients
2 1/2 cups blueberries, fresh or frozen
1/2 cup sugar
1/3 cup light corn syrup
1/8 t salt
1 cup half and half
1 1/2 cups heavy cream
1 t vanilla extract
Directions
In a medium saucepan, mix blueberries, sugar, corn syrup, and salt. Bring to a simmer over medium heat and cook for 5-7 minutes.
Place blueberries in a blender or food processor with half and half. Blend or process until very smooth (allowing any steam to escape from blueberries by keeping the feed tube out of the processor or keeping the lid slightly off the blender). Remove and place in a wide freezer-proof container (like a square pyrex). Stir in heavy cream and vanilla extract. Chill for 4-6 hours or overnight. (To ensure the mixture is super chilled, which is imperative, you can take a cup or so of the ice cream base and freeze it. When ready to make the ice cream, stir the frozen "ice cube" into the base until melted.
Process in an ice cream maker according to manufacturer's instructions. Mine took about 20 minutes. Serve immediately for a soft serve texture or transfer to a container and freeze for a harder texture. (Let soften a few minutes before scooping.)
Author: Kristin Camplese
Bio: Author of Cuizoo.com | Writer | Photographer | Wife and Mother of 2