Posted by Harrison's Fresh + Local on 07/25, 2012 at 05:12 PM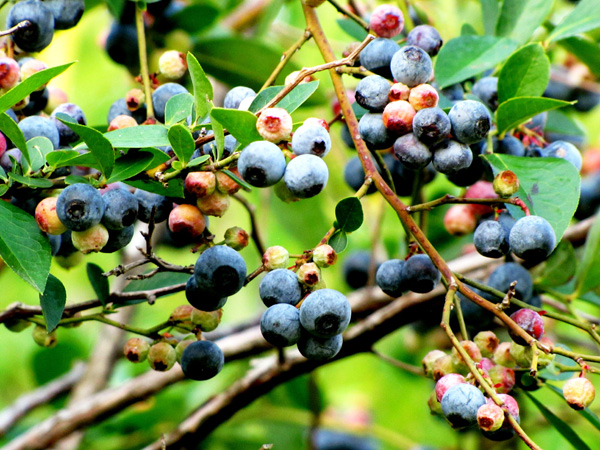 Clare has made desserts for Harrison's for over 12 years and she has always used local ingredients including Meyer Dairy cream, local carrots, sweet potatoes, berries, and apples. Her baked goods can be found in various establishments around town and she also takes direct orders for larger events. According to Clare: "Life is short: Eat dessert first."
Blueberry Buckle
Use a 10" round springform pan or two 6" pans; line bottom of pan with parchment paper. Preheat oven to 350 degrees F.
For the Cake:
Sift together 2 cups unbleached all purpose flour, 1 1/2 tsp baking powder, 1/2 tsp salt. Set aside.
Cream together 1/2 cup butter and 3/4 cup sugar until light and fluffy. Add 1 XL egg and 1 1/4 tsp vanilla. Mix thoroughly.
Toss 5 cups fresh or frozen blueberries with 2 Tbsp flour mixture to coat berries so they don't sink to the bottom and are suspended throughout the cake. Add, alternating the flour mixture and 1/2 cup milk thusly: 1/3 dry, 1/4 cup milk, another 1/3 dry, remaining 1/4 cup milk, remaining 1/3 dry (begin and end with the dry mix). As the last dry begins to mix in, take away from machine (if using one) and fold in berries. Try not to turn the mixture purple—mix gently but quickly.
Pour into parchment lined pan (put some foil around outside if the bottom isn't snug to catch any leaking cake batter). Sprinkle with sandy streusel topping.
For the Sandy Streusel Topping:
1 cup + 1 Tbsp unbleached all-purpose flour
1/4 cup + 1 Tbsp light brown sugar
1 1/4 tsp ground cinnamon
1/4 tsp sea salt
6 Tbsp butter softened to room temp.
Combine dry ingredients and cut in butter until mixture is sandy, not clumpy. Top cake batter and bake.
Bake 60 minutes or until tester comes out clean. Cool in pan. Remove sides. Place a plate over top of cake, flip over,
Remove bottom of pan and parchment paper, place serving plate or cardboard on bottom and flip again, remove top plate and serve with vanilla ice cream or whipped cream.
Author: Harrison's Fresh + Local
Bio: Fresh and Local Team from Harrison's Wine Grill & Catering