Posted by Local Food Journey on 09/16, 2014 at 02:50 PM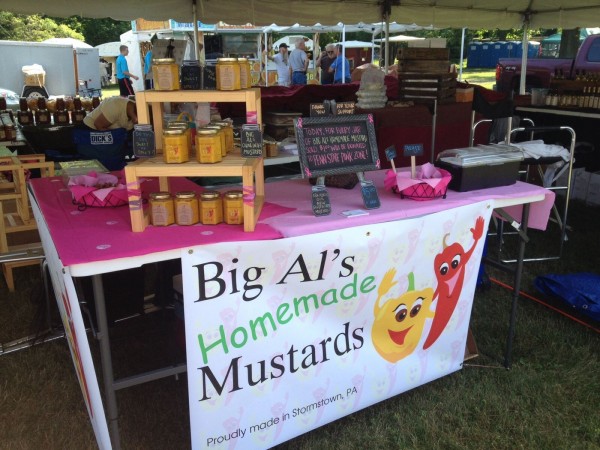 Editor's note: This is the first of our new Local Food Intern Anna Lombardo's articles on the local food scene in Central Pennsylvania.
Next time you're jonesing for that familiar kick of mustard on your hot dog or seeking out a dip for your big neighborhood shindig, set down the Heinz bottle and look no further than a locally brewed and packaged concoction: a jar of Big Al's Sweet and Spicy Mustards.
You'll know you have the right product when you find two adorably animated peppers—one yellow, one red—embracing each other as they beam and wave at you from the packaging. Inside the jar, things only get better. Big Al—also known as Allen Weimert, a retired schoolteacher, who makes the mustard right out of his Stormstown home alongside his wife, Maryann—uses only locally grown ingredients, many of which he grows in his own backyard. For example, the red, yellow, and orange peppers you find delectably strewn throughout the brew have most likely been cultivated at the hands of the Weimerts. What they can't grow, they buy from local vendors. Al tells me that his business both flourishes and is dependent upon the availability of fresh, local foods grown in central Pennsylvania. He says that part of the reason that he and Maryann have been "blessed" with this project is because they have the local resources to do so.
Right off the bat, Al seemed to me enthusiastic about the prospect of small, local businesses, especially those that, like his, sell food or other consumables.
"I always wanted to keep it small," Al said. "I don't want a factory."
Al takes pride in the fact that every batch of Big Al's mustards are made and poured individually. This can be a tedious job; each batch takes about 50 minutes to make, and yields only about 14 to 16 jars. I asked him if there were any especially difficult tasks involved, and with a good-natured laugh he told me that he "hates cutting and chopping up peppers." But I got the sense that, for Al, seeing the mustard-making process through from start to finish is, in itself, rewarding. "There is a big difference between local and homemade," he told me. "If it starts getting made in factory, it's not homemade. [With us], every batch is different; every batch is made one at a time. To me, it's like eating grandma's homemade apple pie."
While condiment behemoths may boast about selling to all corners of the nation, for Al, it's the quality of a family recipe that prevails over quantity. Those who hail from families where recipes have been passed down through generations (myself included, although no one has given the recipes to me yet—I'm still waiting, mom) will appreciate the many minute refinements and experiments in taste that Al's mustard has likely undergone to become what it is today.
Among the Weimert family's more recent experiments include expanding the number of flavors they offer since business began two years ago. They started off selling only two kinds: sweet and spicy. Then, as the business grew, they began to receive requests for variations on the original two flavors. Big Al's now offers five different kinds of mustards, including the newer sweet horseradish, spicy horseradish, and honey mustard varieties.
Big Al's mustards are available in many of the supermarkets in State College, including several Weis Markets locations. However, the only kinds available in stores are sweet and spicy. If this article has whetted your palate for some of the more daring flavors, you'll have to keep an eye out for local fairs and festivals, where Al and Maryann make available the full range of their mustards (samplers welcome).
I took the liberty of picking up a jar of sweet mustard last week from the Weis off of Westerly Parkway. That same night, I cooked up some chicken and, after some initial trouble removing the lid (which unfortunately attests to my lack of upper body strength), I scooped a dollop of the sweet stuff onto my plate. It paired wonderfully with my chicken, and now I feel compelled to try it on every savory item in my kitchen: pretzels (a suggestion from Al himself), burgers, you name it. I even put it on my lunchtime turkey sandwich every day this week, and I looked forward to lunch every one of those days.
Anna Lombardo is a suburban Philadelphian, English major at Penn State, and avid learner, runner, and eater
Author: Local Food Journey
Bio: An exploration of what it means to eat local